Cagnes Sur Mer's history dates back to the Greeks who originally populated the area. Cagnes Sur Mer is said to be the last authentic village in the French Riviera. In the old town, the medieval village of Haut de Cagnes which became classified as a historic site in 1948 houses the magnificient Grimaldi Chateau originally a fortified defence it was transformed by Jean-Henri Grimaldi in 1620 into a spectacular residence.
Today it is still surrounded by ancient residences many dating from 14th and 15th Centuries and its steep winding narrow cobbled streets with spectacular views over the Cote d'Azur.
For artists and art lovers there is "Les Collettes" the home of Pierre Auguste Renoir where he spent his last thirty years. Les Collettes is now a museum housing many of his original works of art. He as well as many other artists loved the area so much mainly because of the light which gave clarity to the scenes he painted. Les Collettes is preserved much as it was whilst he lived there.
Cros de Cagnes is still an active fishing port, started by Italian fishermen hundreds of years ago. Fresh fish caught here is sold every morning down by the port as it comes off the boats. This is probably a major contributory factor in the fantastic Restaurants located in Cagnes Sur Mer. Three of the Restaurants currently hold a Michelin Star in recognition of the excellent standard of food served.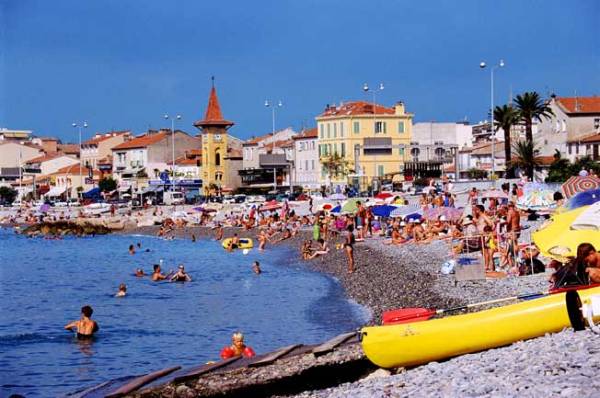 Cros de Cagnes also has a peaceful beach and palm lined promenade which spans four kilometres perfect for sunbathing or swimming in the tide free blue Mediterranean Sea. At the far end of the beach is the water sports section, offering sailing, wind surfing and paragliding. There is also a sailing school here.
Other sports on offer in Cagnes Sur Mer include Tennis (the Open Gaz de France Tournament takes place here every year in April and is one of the top Women's Tournaments organised in France), Horse Racing at the "Hippodrome de Cote d'Azur" France's second largest Horse Racing Track and for Golf lovers there are many internationally acclaimed courses within easy travelling distance of Cagnes.
For shopaholics there are the chic boutiques of Cagnes Ville as well as the popular "Cap 3000" in neighbouring Saint Laurent du Var.
If all that was not enough there is a full calendar of events in Cagnes Sur Mer though out most of the year.
Transportation is easy and at a low cost. The area has two Train stations, one at Cros de Cagnes the other at Cagnes Sur Mer. Buses are frequent to Nice, Antibes, Grasse and Cannes and the fares are just one Euro per adult. Nice Cote d'Azur International Airport is less than fifteen minutes away (in fact Cagnes Sur Mer is nearer to the airport than Nice itself!) but because the planes fly in from over the Sea you are unlikely to hear a plane here.