The Carneros Inn is an indulgent Napa Valley retreat for sophisticated couples and families. Stylistic farm-chic design channels the barns and farmhouses of agricultural Northern California. World-class luxuries include private cottages on 27 acres of private apple orchards and vineyards, a world-class spa and some of the best dining in world famous California wine country.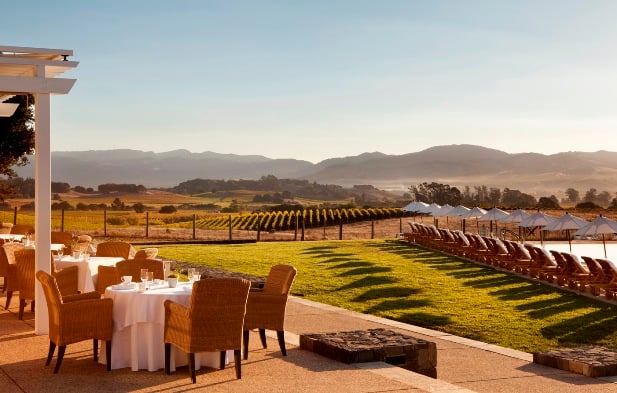 A vineyard oasis ideally located between the Napa and Sonoma Valleys with gravel paths that crunch underneath your feet, private gardens where you can enjoy a glass of California's finest wines, sumptuous hotel accommodations, exceptional dining comprised of the region's best artisanal ingredients, outdoor showers that can be enjoyed under a blanket of stars, crisp white linens and decadent spa treatments inspired by local ingredients ensure a memorable experience that will last a lifetime.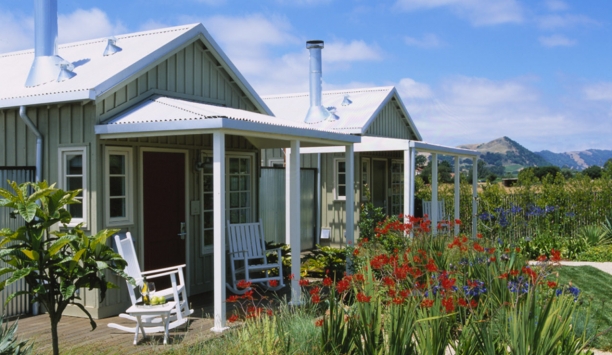 The Carneros Inn offers exceptional venues and a superbly-trained staff eager to provide everything for you and your guests. Whether you're looking for insider tours of the most interesting wineries, a hard-to-get reservation at that restaurant you've always wanted to try, or just want to make the most of doing nothing, our team would be delighted to arrange it for you.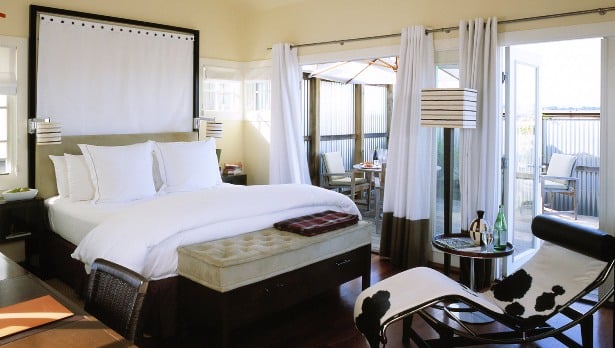 Guest Rooms
Every room at the Carneros Inn is a 450-square-foot cottage. Lavish minimalist interiors are in black, white and khaki motifs with floor-to-ceiling windows. Each private garden has a furnished, gas-heated sundeck and a front porch with rocking chairs and laptop plug-ins. Modern home extravagances include smooth Italian linens, heated slate bathroom floors, flat-screen satellite televisions, state-of-the-art sound systems, Brazilian cherry wood floors, in-room safes and free Wi-Fi.
Clean up in very private open-air patio showers shielded from the vineyard expanse by simple corrugated tin, deep roomy garden bathtubs or limestone indoor showers. All cottages have wood-burning fireplaces and vaulted ceilings.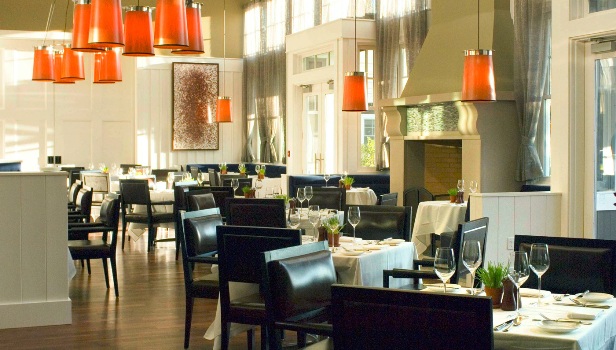 Dining
Enjoy fine dining at The Carneros Inn, which offers three Napa restaurants for guests to enjoy.
Restaurants:
FARM at the Carneros Inn serves locally-sourced cuisine and wine
Boom Fly Café serves modern-rustic cuisine for breakfast, lunch, and dinner
Hilltop Dining Room serves lunch, dinner, and cocktails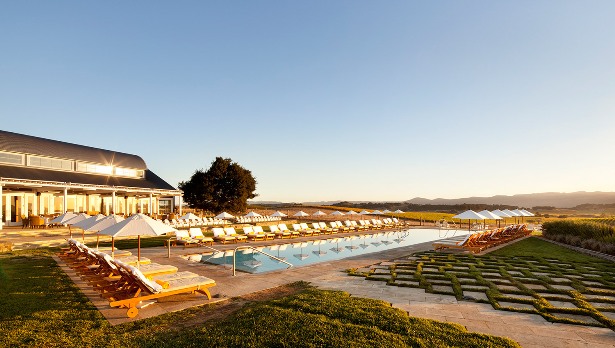 The Spa at the Carneros Inn
The on-premises spa at the Carneros Inn provides a range of massages and other services, many of them based on natural products of the area, such as a goat-butter or mustard-seed massage, grape seed body scrub and an organic garden wrap. The facilities are calming and their therapists highly skilled. However, they've taken the "on the farm" look a bit too far here in the rough, concrete floors that call to mind a campground rather than a luxury hotel.
A hilltop, adult-only outdoor pool, 3,000-square-foot fitness center and bocce ball courts are featured at The Carneros Inn Napa Valley. Padded lounge chairs surround all 3 outdoor pools. Free bicycles are provided for guests to use on the self-contained grounds.
Featuring picturesque views of Napa Valley and outdoor patio dining, the Hilltop Dining Room serves breakfast and lunch daily. The Boon Fly Café and the Farm restaurants are also featured. The gourmet, Market and local store is on site as well.
Buena Vista Winery, Viansa Winery, Cline Cellars and other Napa Valley wineries are within a 12-minute drive of The Carneros Inn. San Francisco International Airport is a 1-hour drive away.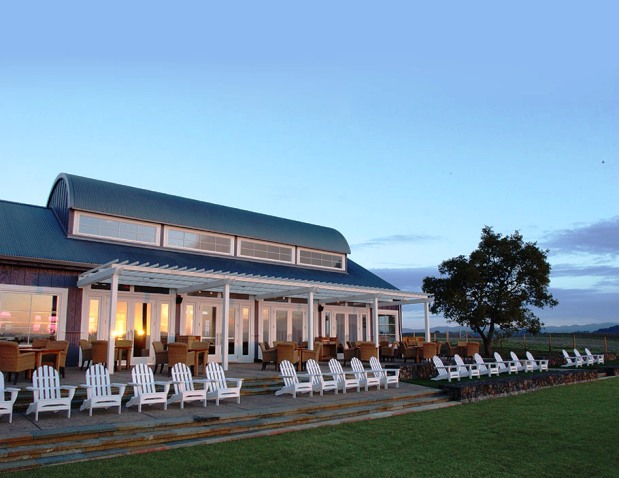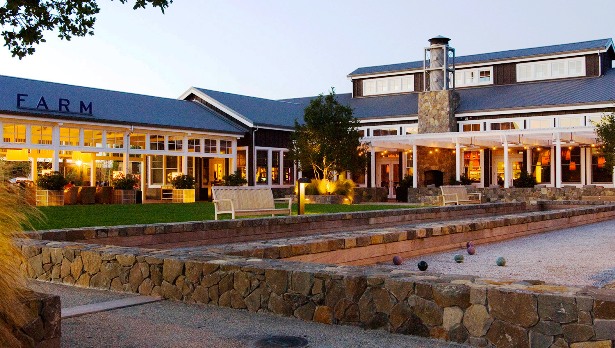 Location
The Carneros Inn is located in the rolling hills and farmland of the Napa Valley, just outside San Francisco. From the Oakland Airport, The Carneros Inn is about a 60-minute drive.
The Carneros Inn
4048 Sonoma Hwy
Napa, CA 94559
Phone:(888) 400-9000