Christmas in New York City
New York City is crazy for Christmas. It's a time when the city is at its most beautiful, strung with lights, bundled for winter and brimming with the warmth of human kindness—as long as you steer clear of the last-minute Christmas shopping mania.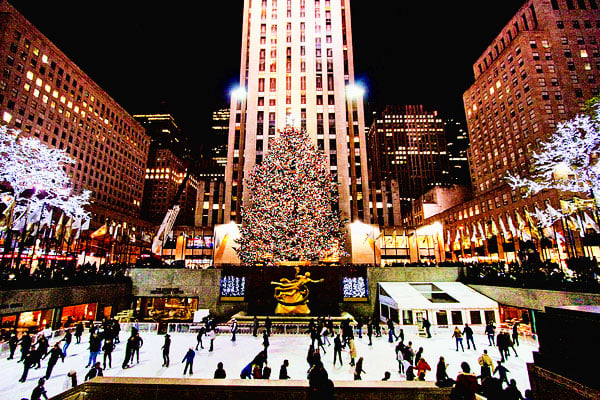 At the heart of it all is Rockefeller Center. Built in the 1930s by John D. Rockefeller, the complex of office buildings is a masterpiece of art deco architecture. Rockefeller Center looks its best at Christmas, when a towering light-strewn Norway spruce is displayed above the small but incredibly romantic ice-skating rink in the lower promenade plaza off Fifth Avenue between 49th and 50th streets. Take a spin, or grab a meal at the elegant Sea Grill right next door, its windows offering an eye-level skater view. On the other side of the rink, the Rock Center Café is a larger, brighter spot serving high-end comfort food.
For a different perspective, the Top of the Rock observation deck offers stunning 360-degree city views from the 70th floor of 30 Rockefeller Center. In the evening, head to Radio City Music Hall for the annual Christmas Spectacular, a grand stage show starring the legendary Rockettes, who have been high-kicking their way across this stage since 1932.
North and south of Rockefeller Center, mostly along Fifth Avenue, the city's high-end department stores mount elaborate holiday window displays that draw locals and tourists by the thousands. Start at Bloomingdale's and Barneys, then head down Fifth Avenue past Bergdorf Goodman, St. Patrick's Cathedral (not a retail stop, granted, but a vital Christmas stop nonetheless), Saks Fifth Avenue and Lord & Taylor, then cut west on 34th to see the extravagantly decorated windows at Macy's, billed as the world's largest store and the most historic of them all. Stop in and see Santa while you're there.
Categories: Abacos, New York, New York City, USA
Tags: Christmas, Family vacations, New York City, Romantic getaways