With year-round glorious weather, more pristine beaches than you could ever hope to visit during your stay and fantastic places to visit and activities to get involved in, it really is little wonder that the Caribbean island of Antigua is so popular with tourists. In response to this demand, Antigua hotels and resorts have sprung up across the entire island, but the west coast does tend to be the most popular.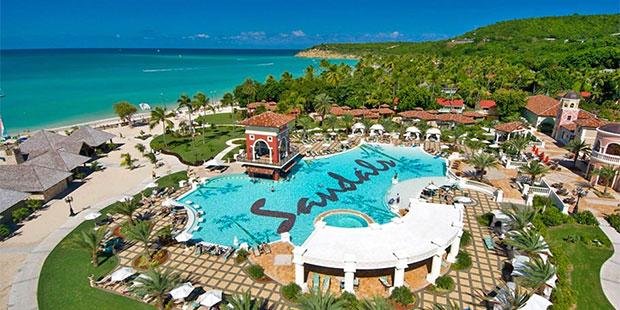 There are a wide choice of Antigua hotels and resorts available to suit every taste and budget. For an excellent tourist-class standard of facilities at an extremely affordable price, The Rex Resorts Halcyon Cove, proves to be a very popular choice. There are numerous three star properties and below across the island and this may be ideal for people looking for a base in Antigua so that they go wander off and explore this glorious Caribbean destination for themselves.
At the opposite end of the accommodation scale, you have truly opulent and luxurious resorts such as Hermitage Bay, St. James Club, Jumby Bay (A Rosewood Resort), Galley Bay Resort and Spa and Blue Waters Resort Antigua. These types of properties are all about total relaxation and pampering, offering a huge range of amenities, plus a choice of dining venues and activities and entertainment packages that will keep their guests thoroughly enthralled.
Most hotels and resorts in Antigua will offer a range of room types. The higher-class properties will often have a range of rooms and suites available and these can be the ideal choice for people looking to experience a wedding in the resort. The hotel will cater to every minute detail of the wedding package. The venue in which the ceremony takes place will be one of the most picturesque settings within the entire complex and this will ensure that you are left with a lasting memory of that special occasion. The wedding breakfast and reception will also be hosted in luxurious surroundings and all guests will be treated like royalty throughout the duration of their stay.
Dining packages at hotels and resorts in Antigua will also vary quite considerably. If you are somewhat of a free spirit, you may perhaps prefer to opt for a simple bed and breakfast package. However, if it is your intention to really make the most of the hotel in which you are staying, all inclusive is likely to be the best idea for you. At least this way there will be no hidden extras and you can budget for your holiday cost far more easily.
Most of the four star plus hotels and resorts in Antigua have several restaurants for you to choose between: these will range from fine dining venues, through to more relaxed venues, such as poolside snack bars etc. The resorts will also have a choice of swimming pools for you to take a cooling dip and most resorts are either right beside the Caribbean Sea or within a stone's throw of it.