Chula Vista Resort is conveniently located about 5 minutes north of downtown Wisconsin Dells. This allows easy access to local attractions and with Chulas unique setting on the cliffs of the Wisconsin River amongst the pine trees and nature, Chula Vista offers one of the best relaxing environments in the Wisconsin Dells area.
With water activities, dining options, and activities on site, Chula Vista offers the perfect spot for your next vacation, business trip, or family getaway. Drive in and enjoy the Wisconsin Dells area or stay on property and let our staff take care of you. Resort Fee Applies.
This  Wisconsin Dells resort has 2 restaurants serving breakfast, lunch and dinner so there's no need to worry about dining options on this trip. Make the most of your trip to United States of America by taking some time to relax as you will find beauty services and massage/treatment rooms on site.
Why not go for a swim as this resort features an outdoor pool and an indoor pool, a great way to unwind. Guests can also enjoy drinks at the beach or in the comfort of the lounge as there are bars both in and out. Other amenities include free parking.
Free wifi is just one of the great things you'll find at Chula Vista Resort, a formidable choice for guests looking for Wisconsin Dells spa resorts. There are many great attractions nearby, including Trappers Turn Golf Course, Jeremy Allen's Grand Illusions Theater, Ripley's Believe It or Not and Wizard Quest. Also close by are Timber Falls Adventure Park and Museum of Historic Torture Devices. Highlights include a golf course.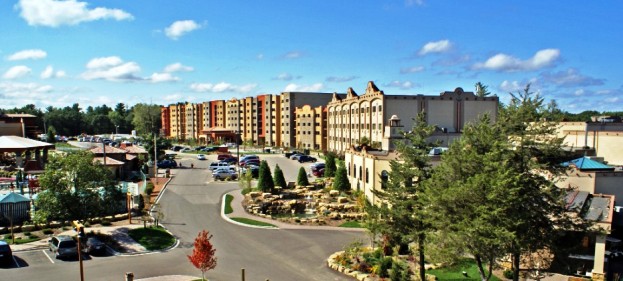 Rooms
This resort boasts an array of spacious accommodation units that are well designed in individual style. All the rooms are equipped with standard living amenities such as coffee maker, refrigerator and microwave.
Restaurant
Chula Vista Resort in Wisconsin Dells offer a variety of dining options for guests to relish fine delicacies in elegant atmosphere. The onsite bar also serves refreshing drinks to unwind in warm ambiance, after a tiring day.
General
Chula Vista Resort Wisconsin Dells features well appointed conference facilities that cater for various business meetings and conferences. It also has indoor and outdoor waterpark, spa and golf course for recreational purpose of discerning travellers.
Location
Located on River Road, the Chula Vista Resort is only a short distance from Holiday Shores Boat Rental And Marina. This property also has Vertical Illusions, Riverview Park And Waterworld, Timber Falls Adventure Golf, Rick Wilcox Theatre and Noah's Ark Water Park in its vicinity.
Rooms: 210
Suites: 90
Floors: 6
Check In Time: 4:00 pm
Check Out Time: 10:30 am
Rate Range: From $69 to $229 per night *
Nearest Airport: Dane County Regional at Truax Field (MSN)
In Rooms: Air-Conditioned. Balconies/Patio. Cable TV. Coffee Maker. Kitchen. Microwave. Hair Dryer. Iron & Ironing Board.
Services: 24-Hour Security. Concierge. Room Service. Valet/Laundry. Wake Up Service.
Special Amenities: Bar/Lounge. Business Center. Fitness Center. Game Room/Arcade. Gift Shop. Golf Course. Newsstand. Pool, Outdoor.
Pool, Indoor. Restaurant. Spa. Tennis Courts. Whirlpool/Hot Tub.
Other Info: Exterior Room Entrance. Interior Room Entrance. Non-Smoking Rooms. Smoking Rooms. Self Parking.
Chula Vista Resort
2501 River Road
Wisconsin Dells, WI
53965 (855) 995-5274  
http://www.chulavistaresort.com/