Destin – Destination Destined To Be Delightful
Destin is among the most popular beach destinations in the United States. Offering an array of options such as diving, snorkeling, boating, fishing and more, it offers absolute delight to the visitors. What is more, attractions in Destin are not limited to the sea shore.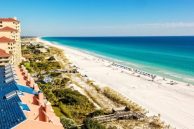 Destin, located in the Florida Panhandle, welcomes millions of travelers every year, due to its long beaches, with amazingly fine and soft white sand. Visitors love to relax in the fine sugar-like sand and enjoy the emerald green and crystal clear waters. A visit to mesmerizing Destin coast will make an indelible mark on your memory.
Categories: Abacos, Destin, Florida, USA
Tags: Adventure Travel, Beach Vacation, Beasley Park, Destin, Destin Florida, Destin History & Fishing Museum, Destin Vacation, etraveltrips, Family vacations, Florida, Florida Panhandle, Florida Vacation, Gulf of Mexico, Miami, Resorts, Romantic getaways, Shopping, sightseeing, travel, travel deals, United States, vacation