Disney Vacation Club (DVC) is the vacation timeshare division owned and operated by The Walt Disney Company. To be a Disney Vacation Club member, one must purchase a timeshare (one-time real estate interest similar to a condo) in one of the Disney Vacation Club Resorts, and thereafter pay annual fees to cover the maintenance of the property.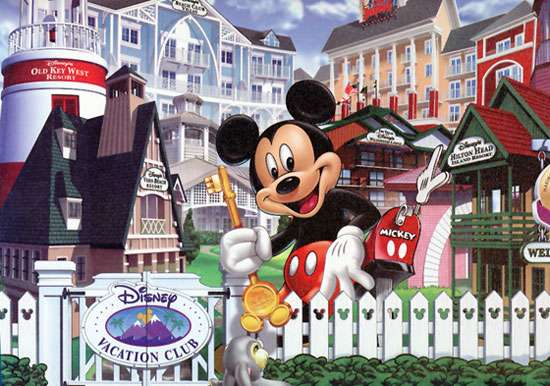 All ownerships are sold as either a ground lease or a term-for-years. Purchasing the Disney timeshare allows buying real estate interest in a DVC resort. Disney Vacation Club's President, Jim Lewis, has led the division to extreme profitability. Read more about Disney Vacation Club ownership and also Disney Vacation Club Resort Points.
DVC owners have the flexibility to exchange their timeshare ownership at any of the Disney Vacation Club resort properties by using their internal exchange club, Interval International or another exchange service.
In 2002 and 2003, DVC owners were allowed to vacation at the Disneyland Resort in California and the Disneyland Resort Paris. In 2005, Hong Kong Disneyland Resort was added. In 2006, Tokyo Disney Resort was added. In May 2005, Disney Vacation Club began advertising and selling at Disneyland Resort in California. In September 2009, DVC added The Villas at Disney's Grand Californian Hotel & Spa.
In 2011 Disney Vacation Club opened the 800-room DVC Resort in Hawaii. The name for the resort, Aulani, was announced in January 2010.
Located 25 miles west of Honolulu at the Ko Olina Resort & Marina, Aulani is the third DVC resort located outside of Disney Theme Park property, after Disney's Hilton Head Island Resort and Disney's Vero Beach Resort.
The DVC family of resorts include  Saratoga Springs Resort,  Villas at Disney's Grand Californian, Boardwalk Villas, Animal Kingdom Villas, and Hilton Head Island Resort.
In March of this year, DVC announced that they were adding to the beautiful Disney Grand Floridian Resort & Spa. This addition will be located between the existing Grand Floridian and the Wedding Pavilion.
Two tennis courts will be removed to make room for parking. Also, a covered walkway will be added from the main lobby to the new building. All units being offered will be villas. Recently Disney purchased land outside of Washington DC for another resort.
DVC is a runaway hit in the timeshare industry. Owners love the resorts and they love the flexibility to exchange their timeshares within Disney VC or within the 5,000 timeshare resorts worldwide.