Famous Tourist Destinations in India
Tourists from across the world love visiting India for its exotic flavors and many splendored attractions. India has so many places worth visiting that one finds it difficult to take in all in one go. The list of tourist destinations in India can get to be quite long list but a few spots will always remain favorites.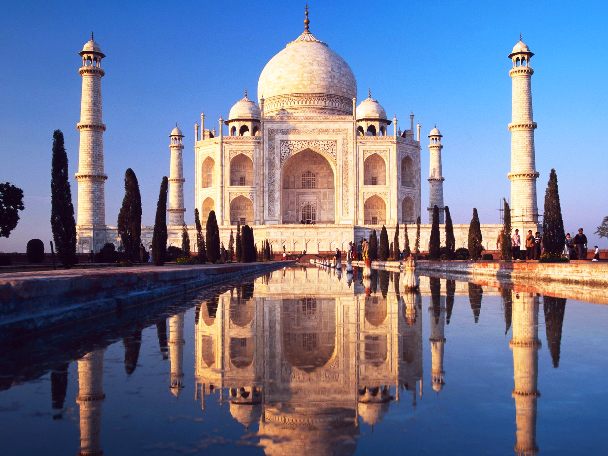 The incomparable Taj Mahal, one of the Seven Wonders and a UNESCO World Heritage Site, in Agra undoubtedly tops the list of places to visit when touring India. Agra has other places like the Sikandra tombs and Fatehpur Sikri. Itmad-Ud-Daulah, the tomb of the parents of the Mughal Express, Noorjahan, is yet another beautiful example of Mughal architecture in Agra as is the Agra Fort and the tomb of Akbar, the Mughal Emperor.
With its rich cultural heritage India does not lack in monuments that awe and impress and not far away from Agra, you have Delhi, the capital of India, with history at every turn. The Red Fort, the Qutub Minar and Humayun's Old Fort are but a few of the city's must visit spots. Delhi has modern attractions and can be the starting point to trips to beautiful hill stations like Simla, Mussoorie, Nainital, Chail and others in the Northern region and to wildlife sanctuaries like the Corbett National Park, the Sultanpur Bird Sanctuary and the Bharatpur Bird Sanctuary. Exploring old Delhi and its bye lanes is itself a journey that is a destination.
Kashmir still bewitches, enchants and beckons with its serene lakes, the awesome Himalayas and the enchanting shikaras or houseboats that will remain ever green in your memory. Kashmir, the Heaven on Earth and its beautiful Mughal Gardens will surely charm you.
Categories: Abacos, Asia, India
Tags: Adventure Travel, Agra, Delhi, Family vacations, Fatehpur Sikri, Historical site, India, Jaipur, Museums, Rajasthan, Shopping, sightseeing, taj mahal, travel, World Heritage Site