People dream about fishing legendary waters like those found in Minnesota's great northwest region. The area is home to some of the state's largest lakes, including Lake of the Woods and Leech Lake. These lakes provide exceptional fishing opportunities year-round.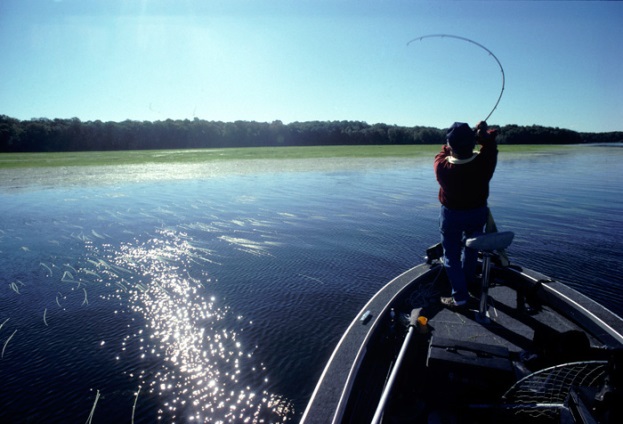 But it doesn't stop there; you can find crystal clear lakes surrounded by pine forests in this north woods region, and famous river fishing on the Mississippi and Red Lake rivers.
Lake of the Woods, known by some as the "Walleye Capital of the World," is a bucket list destination for many anglers. Fishing for walleye and sauger is the main attraction, but don't miss exploring for other species, like muskie, northern pike, sturgeon and crappie.
Sportsman's Lodges offer three distinct locations for year-round fishing on Lake of the Woods: a full-service resort along the Rainy River; and secluded island lodges and private vacation homes at the Northwest Angle. Arnesen's Resort on the south shore has a large protected harbor with nearby rock reefs where the walleye hang out. Lake of the Woods offers full-service charter boat and guide services at many of the resorts.
The Red Lake River, accessible from Thief River Falls, is home to walleye, northern pike, smallmouth bass and crappies. Accessing the river is easy with two public accesses within the city limits. When you need a break from fishing, lodging, dining and other fun activities can be found in the area.
Rock your boat reeling in bass, walleye and muskie on Bemidji area lakes. Bemidji is a northern Minnesota regional hub that maintains its "up north" charm. Expert fishing guides can help find the "right spots" for those new to the area. Along the Lake Bemidji shoreline, Paul Bunyan and Babe watch over the action.
There are many great resorts in the area, including Kohl's Resort on Big Turtle Lake. The resort is nestled in the pines and birch of Buena Vista State Forest. Big Turtle Lake is 1,400+ acres on a clear five-lake chain. You'll be telling great stories about your fishing trip here.
Leech Lake offers multispecies fishing, so there's always something waiting to bite your hook. Midsummer, go on the ultimate fish hunt for some very active muskie. The lake also provides the opportunity to bring some great walleye and other species into your boat. You'll find fishing and family resorts, and full-service everything-you-want lodging. Don't miss downtown Walker, with its great restaurants and fun gift shops. Leave time to explore one of Minnesota's most well-known sporting goods stores.
The Park Rapids Lakes Area is home to more than 400 pristine lakes where fishing can be a daily activity. Walleye, muskie, bass and panfish abound. The area is a great place to bring your family and catch some memories. Visit downtown Park Rapids for some shopping, dining and great community events.
The famed Mississippi River begins its journey at Itasca State Park, just north of Park Rapids. The Itasca Area Lakes resorts and campgrounds can be your headquarters to venture out to multiple area lakes. You can explore on your own, or hire a local fishing guides—you relax, they find the fish for you!
Lake Detroit serves as the center of the 412 lakes in the area. Go after the fish of your dreams: walleye, northern, trophy size muskie, bass, crappies, sunfish, trout, bluegill, perch and rough fish. There are great accommodations in Detroit Lakes, or choose one of the lakeside resorts. When you're off the water, you'll find a fun day of activities at local attractions, including a national wildlife refuge.