Central Minnesota is known as "lake country," and for good reason. You'll find more than 1,500 lakes and rivers in which to cast your line for the many species of fish that lurk in these waters. The area is directly northwest of the Twin Cities and is an easy drive for its many visitors. Famous walleye anglers and guides call this region home.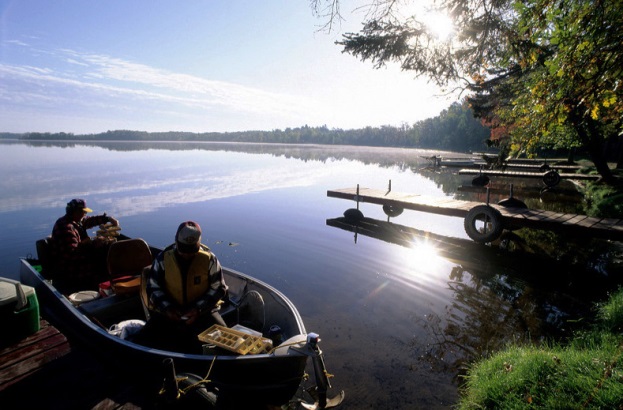 The Willmar Lakes area is known as "where the lakes begin." With more than 300 sparkling lakes in the county, whatever fish you seek, you'll find it here. The many bait shops in the area provide the visitor with the latest information on what's biting.
The Alexandria area is home to 44 walleye-stocked lakes. Lake Miltona is a great place to hunt muskies, and Lake Carlos will have you saying "fish on!" when a crappie bites your hook. Visit fun attractions including the Minnesota Lakes Maritime Museum, where you'll learn about the state's history of boating and resorts.
Just east of Alexandria, you'll find the 6,300-acre Lake Osakis, known for its abundance of walleye. It's also known as a top 10 lake for sunfish. It's a great place to visit a family resort that provides not only great fishing, but fun activities for all ages.
Otter Tail Lakes Country is home to 1,048 lakes and the Otter Tail River. The town of Fergus Falls is a great place to stay, eat and visit the local attractions. Resorts line the shores of the area's lakes and provide great hospitality to visitors. Thumper Pond Resort is a great home base for your fishing adventure, but you can also play a round of golf and splash at the indoor water park.
At the northern end of the region is Perham. When you're not cruising an area lake, you can visit the specialty shops and fun places downtown.
There are hundreds of lakes in the Wadena area for fishing in both the warm months and winter. Take in the history and legends of the nearby Crow Wing River, and be sure to check out Old Wadena just a few miles from town.
The Brainerd Lakes area is famous for its lakes. Cragun's Resort, on the shore of Gull Lake, is a family favorite. Full-service guides are available for full- and half-day trips, and boats and pontoons can be rented from the full-service marina. Golfers shouldn't miss the fantastic Cragun's Legacy Course.
Brainerd and Baxter, twin towns in the Brainerd Lakes area, have many lodging and attraction options. Use your hotel as headquarters to navigate the more than 460 lakes and rivers in the area. No matter what species of fish you're after, you should be able to find it in these lakes.
The historic Grand View Lodge is on the northern shore of Gull Lake. It offers a full-service experience with a wide variety of restaurant choices, a beautiful beach area and access to bike trails. You'll also find three championship golf courses. Pamper yourself after a hard day of fishing at the on-site spa.
Nearby is the charming town of Nisswa, home to famous guide services as well as bait shops and a marina nearby. The town has a variety of specialty and gift shops and dining options. Don't miss the legendary turtle races during the summer months.
Lake Mille Lacs is a famous fishing destination in Minnesota. You'll find walleye, bass, northern pike and muskies lurking in these waters. Launch services that can hold large groups are available, and great family resorts and hotels can be found along the shore. The area is home to two state parks, Mille Lacs Kathio and Father Hennepin, a state bike trail, golf courses and other fun activities.
St. Cloud rests along the shores of the Mississippi River. Smallmouth bass fishing is some of the best in the state. Muskies larger than 30 pounds have been caught near Clearwater just outside of St. Cloud.  The area offers other varieties of fishing including the well-known Horseshoe Chain of Lakes, where you'll find resorts and campgrounds. Quarry Park and Nature Preserve is a good spot for trout fishing.
Hutchinson, south of St. Cloud, is home to various lakes, rivers and streams. Walleyes and crappies are the much sought-after fish in this area, but as in many Minnesota lake areas, you'll find a variety of species. The community of Hutchinson has many services for visitors.
Near Sauk Centre is the well-known Sauk Lake. Trophy-sized bass, stocked walleye and panfish are the main attractions.  You'll find a lake access campground, bait shops and other angler-friendly amenities. Most famous for being the home of Sinclair Lewis, Sauk Centre maintains its historic appeal while catering to today's travelers.