Ride your way through Minnesota's scenic central region
Central Minnesota is home to some of the state's best-known trails. The landscape can take you from trails lined with blooming prairie grass to scented pine forests. Whether you're planning a day of riding or a week long adventure, the region is full of great places to explore. Many trails connect, allowing visitors to ride to a wide variety of communities. If you're not into long-distance riding, there are many places to drive and park to enjoy a more leisurely ride.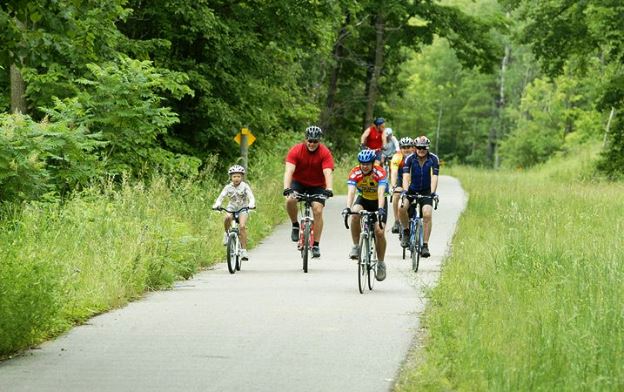 Bike the Soo Line trail in the Mille Lacs area, a paved off-road trail in the old Soo Line railroad corridor between Isle and Onamia that extends 11 miles one way. Travel a distance of 18-22 miles from Father Hennepin State Park in Isle to Kathio State Park in Onamia, which involves riding on the paved trail and some low-volume highway travel.
One of the newest biking attractions is in the Cuyuna State Recreation Area. Mountain biking here is one of the fastest-growing attractions in the area and has been named a world-class mountain biking destination. Cycle Path and Paddle in Crosby can outfit you if you don't already have the right equipment. You'll find sales and rental of a variety of bikes, along with repairs, maintenance, clothing and more.
Ruttger's Bay Lake Lodge is a great place to stay and offers a variety of cabins and condos. Located along the shore of Bay Lake, it's a popular destination for those visiting the mountain bike area or the Cuyuna Lakes State Trail.
In the Brainerd/Baxter area, the Paul Bunyan Trail offers miles of scenic riding. The trail connects two state parks that anchor either end. Near the trailhead in Baxter, stop and enjoy nature at the Northland Arboretum. You'll find great dining and lodging in the area, as well as other fun attractions to round out your trip.
Categories: Abacos, Minnesota, USA
Tags: Adventure Travel, Biking, Biking Vacation, Central Minnesota, etraveltrips, Minnesota