Free stuff to do in Las Vegas
Las Vegas! Sin City, Gambler's Delight, Broadway of the West. Uttering "Vegas" brings a strong visual picture into most minds based on their own experiences and what's possible in this city.   Tens of millions of tourists flock to Vegas each year to spot celebs at the hottest clubs, see fantastic show like Cirque and of course gamble the night away.  With so much to do here and so many ways to spend your hard earned money, isn't it nice to know there are a few ways to see exciting attractions for free?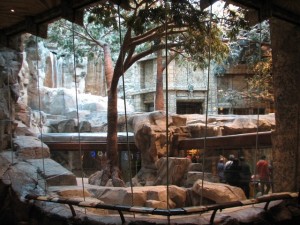 Roar with excitement and delight when you see the MGM Lion Habitat.   The shear power and grace of these amazing creature is thrilling for all ages. And no matter how tough you think you are, you'll be praying that the person that erected the cages and walls did a great job. These beasts are amazing and gorgeous at the same time. MGM developed this 8.5 acre ranch 12 miles from the MGM hotel.   Their website states that the wonderful Keith Evans is the leading trainer there and that they created this attraction out of appreciation to this "majestic creature of nature".
There's also a mini-safari and onsite is said to be a direct descendant of "Leo" the famous MGM Lion (the one that roars to begin every movie and TV show from MGM). One roar and we appreciate this amazing creature. Go check this one out.
Ready for more animals in the desert? How about Chilean Flamingos, Koi Fish, Swans, and exotic turtles and waterfalls. How can you find that in the desert? Brought to you by none other than Flamingo Hotel (of course) is a free attraction for the entire family.  This one of a kind reserve will leave you baffled that you are standing in Las Vegas and not some far remote island. You'll see lush greenery and foliage as well as sparkling waterfalls.  The animals live as closely as they can to their proper habitat, are cared for by experts in the field, and have their own little territories they can claim as their own.
Categories: Abacos, Las Vegas, Nevada, USA
Tags: Australia, casinos, Chilean Flamingo, Fiji, Hawaii, Las vegas, Metro-Goldwyn-Mayer, MGM, Mirage, travel