Fun-Filled Theme parks For Families And More In Tampa When you think of family fun in Central Florida, you are more than likely to think of Orlando. It's understandable because it is the  home of the #1 Family Theme park in the world, DisneyWorld. But don't overlook Tampa for your next vacation.  Tampa is a bright and beautiful city with family attractions, great food, and friendly people.
Whether you travel as a couple or with the family, you'll have lots of great options.   I asked the members what they would recommend to a friend in Tampa and got lots of responses.
Not only a beautiful city to admire, it is also family-friendly with lots of attractions.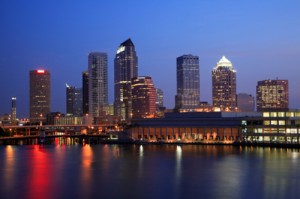 The city of Tampa, with lots of sun all year, sits on Tampa Bay.  Probably the first thing you will see in Tampa is the Sunshine Skyway Bridge spanning over 5.5 miles and connecting 2 sides of Tampa Bay. You'll recognize the area from numerous car commercials on TV because of the beautiful emerald-green Gulf waters, long length of travel, location in the sunny state, and modern architectural design. The Travel Channel rated the Sunshine Skyway the #3 Most Beautiful Bridge in the World.
Talk about family-fun in Florida with your friends and you'll get recommendations on where to go in Orlando. But don't count Tampa out yet. The city of Tampa / St. Pete is also home to fun-filled attractions for the family hosting both Busch Gardens and Sesame Street Safari of Fun.
Sesame Street's Safari of Fun is home to wonderful attractions for the kids like Air Grover (a fun mini-coaster for the little ones) and Elmo's Tree House.)
Members raved about the safety and cleanliness of the Sesame Street Park and how excited their kids were to see their favorite characters from TV right there in person.Thrill-seekers will get hooked on Montu, one of the longest and tallest inverted roller coasters in the world.
Then there's SheiKra, which tops out at a whopping 70 MPH and the fact that there is no flooring will thrill you even more.
Sit back and enjoy a lazy afternoon watching America's favorite pastime at the indoor and air-conditioned Tropicana Field. After years of languishing at the bottom of the American League East, The Rays are now contenders year after year.   Family-friendly Tropicana Field ("The Trop") offers reasonably priced tickets which is nice if you are traveling as a pack of 5 or more. Members told us the park is very comfortable and well lit. They recommended the large cuban sandwich and local brew and the kids will love the chocolate popcorn and (Tropicana) orange juice.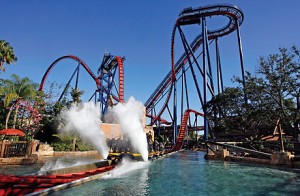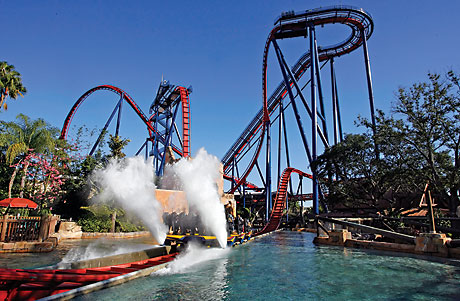 Home to great family theme parks, Busch Garden and Sesame Street Safari of Fun, as well as great shopping, food, and beautiful sites, Tampa is the often overlooked vacation spot in Central Florida. Whether you own an RCI Timehare, a Marriott Timeshare, or any timeshare Tampa has a wonderful selection of resorts to stay in. And if you don't own a timeshare, consider timeshare rentals to ensure quality accommodations for less than the cost of a hotel room.
Either way, you'll love the Tampa / St. Petersburg area whether you travel as a couple or as a family vacation.
Visit http://www.etraveltrips.com for more information