Elvis Presley's Graceland Mansion, where he lived from 1957 until the day he died 20 years later, is a little artificial and easy to poke fun at, but it is also intriguing, entertaining and, at times, very moving. Visitors have heard about the crystal chandeliers, peacock blue curtains and the legendary 'Jungle Room', with its waterfall wall, shag-carpet ceiling and fake-fur upholstery. But irreverence soon fades: Graceland goes far beyond simple kitsch.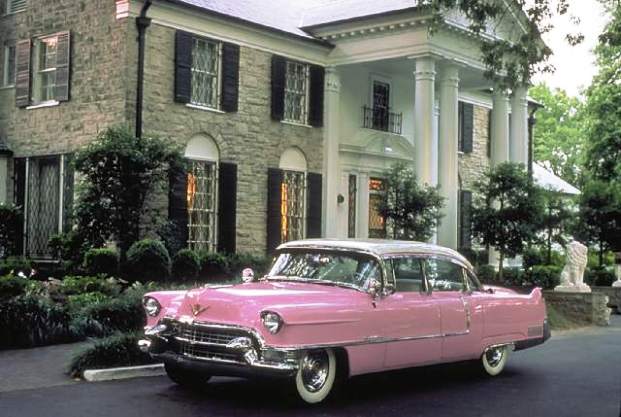 It has something to do with the fans who travel thousands of miles to see The King's last resting place in the Meditation Garden, surrounded by the graves of his mother, father and paternal grandmother, Minnie Mae. It also has something to do with the greatness of Elvis himself, a poor boy from Mississippi who took the music of the Black South and the White South and ran them through a set of vocal cords that could get young girls and old women alike all jittery.
From the day he moved in with his mama and daddy in fulfilment of a boyhood promise to buy them the biggest house in town, Graceland was Elvis's escape and refuge, a place where he could kick back in an atmosphere that to him said 'home'. Graceland became an instant mecca for fans, and today ranks as one of the nation's most visited homes.
In the frozen-in-time Graceland mansion, the living room, music room, dining room, kitchen, TV room, pool room, Jungle Room and a bedroom are open to visitors. Elsewhere within the 32-acre complex are Elvis's office, a racquetball building and a trophy hall lined with gold and platinum records, stage costumes, guitars, jewellery and mementos.
Across the street is Elvis's collection of motorcycles and cars, including his famous 1955 pink Cadillac Fleetwood, and his two private jets. About 100 miles southeast of Memphis, true pilgrims can also visit Elvis's birthplace, a simple two-room house in Tupelo, Mississippi, where The King was born on January 8, 1935.
Address

: 3734 Elvis Presley Blvd, Memphis, TN 38116