Kansas City bills itself as the "Heart of America." Within 250 mi of both the geographic attractions and population centers of the nation, the city is famous for its stockyards, saxophone player Charlie "Bird" Parker and his Kansas City-style bebop, and some of the best barbecue in the world.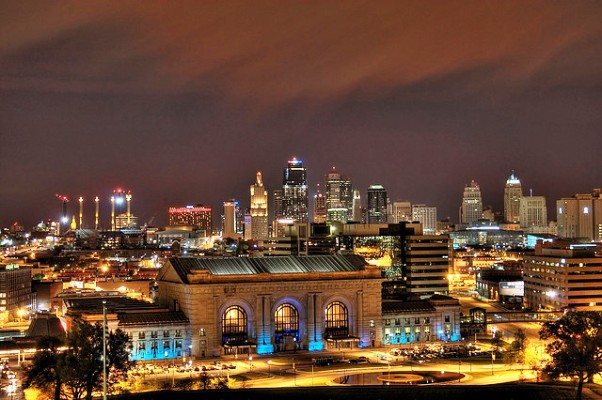 Kansas City has more boulevards than Paris and more working fountains (212 and counting) than any city but Rome. An unwritten rule dictates that a fountain be added to nearly every new commercial structure built, giving Kansas City its second nickname: "The City of Fountains."
Kansas City Must-Sees
A true mid-century relic, the Boulevard Drive-In Theatre caters to the nostalgic and still screens the latest films. It's the oldest theater of any kind in the metro area, having operated continuously since 1950.
Schlitterbahn Kansas City Waterpark features tubing adventures including Torrent River, along with such attractions as the Bahnzai Pipeline, the Wolfpack and the Black Knight tube slides.
Keep the momentum going at Kansas Speedway, a 1,200-acre venue that will host two NASCAR Sprint Cup races in 2011.
The Strawberry Hill Museum and Cultural Center, built in 1887, was once an orphanage. Now it's dedicated to promoting the Slavic heritage of Kansas City. Sip a warm blend in the tearoom or savor an authentic Slavic dessert.
At Stanford's Comedy Club, where Robin Williams tested his material in the early 1980s, catch a routine by Pauly Shore, Lewis Black or Lisa Lampanelli.