We all know that the country of Italy is famous for it's art, food, people, soccer (calcio), fine fashion and great natural beauty. On the artistic side, there are famous churches, cathedrals, paintings, sculptures, piazzas, etc. And if you are an opera buff, Italy is home to many famous and beautiful opera houses. Below is a listing of the famous opera houses in Italy.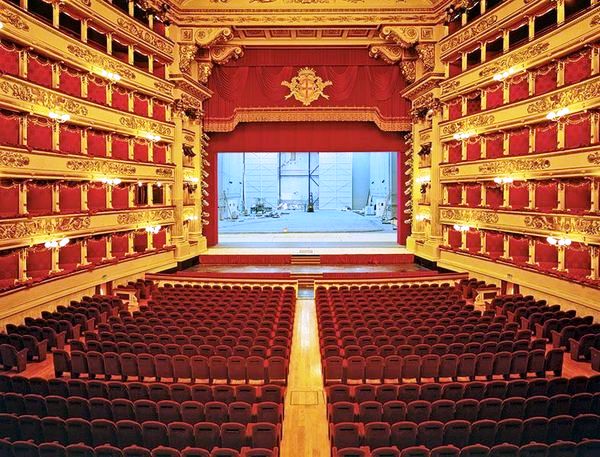 Teatro La Fenice, located in Campo San Fantin, Venice.
This famous opera house was actually rebuilt twice, after two different fires destroyed it back in 1836 and 1996.
The present theater reopened in 2003 at a cost of about 90 million Euros. This opera house is one of the most prestigious in all of Europe and has had famous performances by Stravinsky, Beethoven, and Wagner. The original theater was built in the late 1700's.
Teatro Massimo, located in Piazza Verdi in Palermo, Sicily. This is the biggest of all opera houses in Italy.
It is actually one of the biggest in all of Europe. It was built for King Victor Emanuel the second back in 1897. It has a reputation for perfect acoustics, which makes it great to catch a performance. It is open year-round because of the mild Sicilian climate. This is where the final scenes from the Godfather Part III movie were filmed.
Teatro Comunale di Bologna, in the Emiglia Romana region.
This is a gorgeous Baroque-style opera house that was built in the 18th century. The façade was actually completed in 1936. The famous conductor Arturo Toscanini performed many times at this venue.
Teatro San Carlo, located in the southern city of Naples.
This is one of the oldest in all of Europe, and also was destroyed by fire back in the early 1800's. This theater is renowned for its architectural beauty, its ornate gold decorations, and upholstery made of a deep blue, which were the official colors of the Bourbons. There were many famous performers that performed here over the years, which is probably what helped catapault the famous classical Neaopolitan music that we hear today.
Perhaps the most famous of all opera houses in Italy is in Milan.
Teatro Alla Scala, inaugurated back in 1778, is considered the top opera house in Italy drawing many famous performers such as Verdi, Toscanini, and Puccini. It has a neoclassical design done by famous Italian architect Giuseppe Piermarini. Their opera season officially opens on December 7 every year, the day the Milanese honor their patron Saint. There is also a festival that day for Saint Ambrose (or Ambrogio in Italian).
If your vacation in Italy takes you to any of these cities, you should try to catch an opera performance in one of these premier venues. The opera season in Italy generally runs from October through March or April. It is best to book ahead for your tickets.