Though Charlotte dates from Revolutionary War times (it is named for King George III's wife, Queen Charlotte), its Uptown is distinctively New South, with gleaming skyscrapers and cultural landmarks. Uptown encompasses all of center city Charlotte, its business and cultural heart and soul.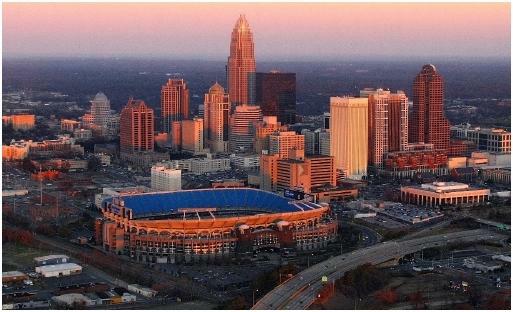 Charlotte is also home to many residential neighborhoods, including the four wards of Uptown, Dilworth, NoDa, South End, South Park, and more. And public art is keeping pace with the city's growing skyline.
Examples of this are the sculptures at the four corners of Trade and Tryon streets. As a city developed around trade, Charlotte was built upon the crossroads of these two affluent Native American trading paths, also the highest point in the city and the reason for coining the city center "Uptown." Erected at Independence Square, the sculptures symbolize Charlotte's beginnings: a gold miner (commerce), a mill worker (the city's textile heritage), an African-American railroad builder (transportation), and a mother holding her baby aloft (the future).
The city's Southern hospitality is a mark of its past, with countless attractions, hotels, restaurants and sights heralding its growth into a top vacation destination.
Charlotte Must-Sees
Love the idea of driving fast, or watching other people zoom around a racetrack? Charlotte's the place. Take a spin at 160 mph in a NASCAR stock car at the Richard Petty Driving Experience, and then go behind the scenes at Charlotte Motor Speedway.
The thrills continue at the U.S. National Whitewater Center, where you can raft or paddle through rapids that range from easy to extremely difficult, in a multi-channel, river. Set in the woods along the Catawba River, this adventure playground also has a 1,100-foot zipline and a climbing center.
After all that excitement, you'll be hungry. The fried chicken at Price's Chicken Coop is a Charlotte classic, winning raves from major food magazines.
Discover the joy of science at Discovery Place. After a major renovation, this interactive science museum is better than ever. Wind down with a walk among the butterflies at the nearby Charlotte Nature Museum.
Visit the Charlotte CVB web site for more information
http://www.charlottesgotalot.com/