This is the prototypical California beach moment: you're in your shorts and flip-flops, standing on a street with palm trees and clear blue sky overhead. Scantily clad nubile young things zip past on Rollerblades. Nearby, gently breaking Pacific Ocean waves lap on to the glistening sandy shore. Across the street, a café overflows with tanned patrons, shaded by a canopy of bougainvillea. And you think: "It's January!"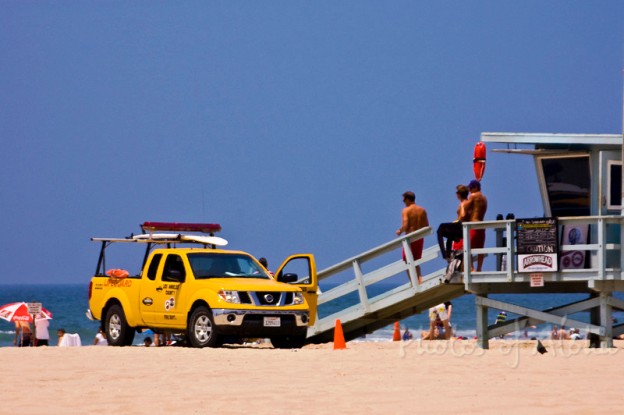 Welcome to Santa Monica. An incorporated city since 1907, bounded by lumbering Los Angeles on one side and the big blue sea on the other, L.A.'s beach community is no longer the sleepy, shambling, relaxed resort town it once was. But the flat streets of Santa Monica are still perfect for walking, jogging, biking or taking in the sun once the morning fog lifts.
The Third Street Promenade, once a somewhat shabby outdoor mall—also one of the first in the country—is now the very model of 'new' urban spaces, and one of Southern California's favourite gathering places with its shops, cafés and film theatres. While undeniably a pleasant place to stroll, you'll also want to head to historic Santa Monica, well preserved and at its best at the world-famous Santa Monica Pier. A beloved institution since 1909, it boasts a collection of classic carnival rides, seashell souvenir shops and, best of all, a genuine 1930s all-wooden merry-go-round that's likely to be familiar to anyone who has seen The Sting.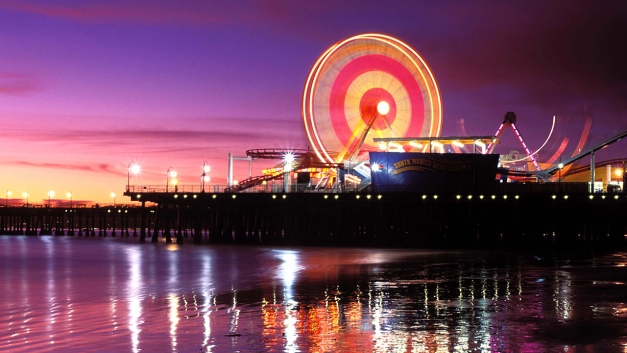 A few blocks away you may run into West Side celebrities such as the Hanks-Wilsons and the Spielbergs at the upscale boutiques along Montana Avenue. The highly touted farmers market on Wednesdays and Saturdays brings out local amateur and professional chefs (some of whom put on special cooking demonstrations), searching out the best in organic, seasonal produce in colours and varieties you didn't know existed.
If you'd rather have your food prepared, and in a manner nothing less than 'divino', search out the Italian cuisine at swanky Valentino, where legendary host-owner Piero Selvaggio treats his customers like long-lost family and the 100,000-plus-bottle wine cellar is acclaimed as 'the greatest of them all'. Back on the beachfront and within sight of the pier is the delightful Shutters on the Beach, one of just two hotels in Santa Monica positioned directly on the beach rather than across the street. One of the most alluring hotels in the area, it manages to combine the casual Cape Cod resort look (all rooms have balconies that open to let in the sound of the ocean) with all the luxurious amenities its VIP guests have come to expect, including a spa and seaside meals at One Pico and Pedals Café.
Just a stroll south of Santa Monica is the still oddball and delightful beach community of Venice, founded in 1905 by Abbott Kinney, who envisioned a Venice-of-America. Kinney designed it to include canals, Italian architecture and imported authentic gondolas, long since gone. Though the canals still exist, they're not nearly as noteworthy as the city's famed three-mile long Venice Beach boardwalk, a wide, paved promenade that runs alongside the white sand beaches.
This was the epicentre of L.A.'s 1960s hippie scene, and much of that bohemian vibe lingers still. With its inexpensive cafés and stalls selling trendy clothes, sunglasses and temporary tattoos, it's a carnival of humanity where street musicians, Rollerbladers, tramps, bikini-clad babes and classic Southern California freaks are perpetually on parade. The area's long-famous weightlifters' mecca, Muscle Beach, is still pumping up young 'Ahhh-nuld' Schwarzenegger wannabes. Everyday people line up at Jodi Maroni's Sausage Kingdom or stroll Venice's Main Street, a stimulating seven-block mix of shops, both fabulous and quirky.