The Hotel Edison New York City built in 1931 and renovated in 1998, this 1,000-room hotel features art deco murals and fixtures in both the lobby and the rooms. Hairdryers, irons, and ironing boards are available on request. Two restaurants are accessible from the lobby: Cafe Edison has been called the unofficial clubhouse of the New York theater district—complete with hearty European fare and stylized pink booths.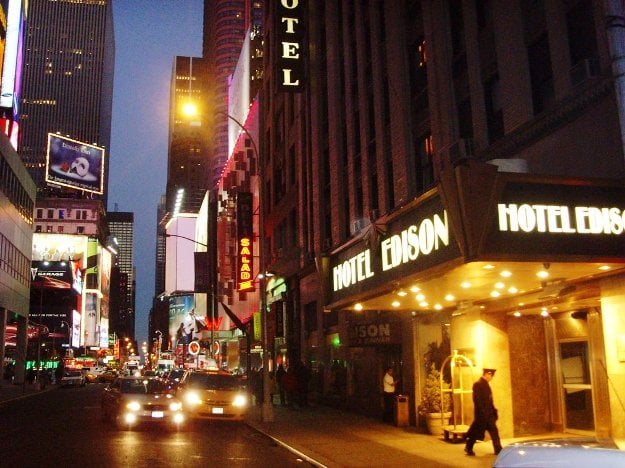 For Italian food (you'd better bring breath mints for all the garlic), try dining at Sophia's where live jazz will keep you entertained most evenings. The hotel also houses a hair salon and a gift shop. Hotel Edison trivia: Several scenes from "The Godfather" were shot on location here
Guest Rooms
The Edison Towers Times Square offers 900 guestrooms in a 22-story building. Air-conditioned accommodations feature wireless Internet access (surcharge), phones with voice mail, and cable TV. Hair dryers and irons/ironing boards may be available upon request.
Guests can relax at the Edison's piano bar and caf? after returning from a Broadway show. Wireless Internet access(surcharge) is available throughout the hotel and one meeting room is available.
Staff at the Edison go the extra mile for their guests, providing concierge assistance that includes a ticket booking service for the most exciting attractions and shows in the area. The Hotel offer its own fitness suite, boasting extensive cardio machines and premium equipment. After a workout, guests can retire to their comfortable and luxurious accommodation and enjoy access to WiFi and in-room entertainment.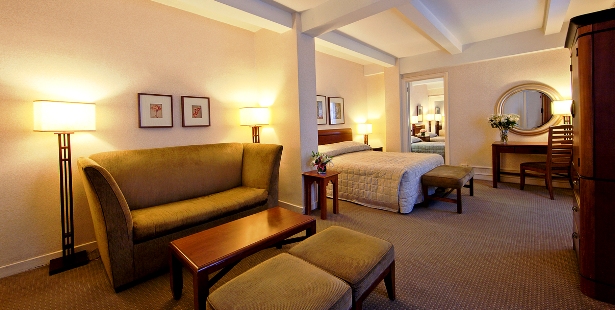 Dining
The Hotel Edison NYC offers a range of in-house fine dining options with 3 stylish restaurants to choose from and its renowned cocktail bar, The Rum House
The Edison Ballroom – The Edison Ballroom has a long and colorful history. It was originally opened in the 1930's as a grand ballroom for the Hotel Edison. It was constructed in the classic "art deco" design, and offered dining and dancing to its patrons, while featuring many famous bands and singers from the "Swing Era."
The Rum House – The Rum House is widely recognized as one of the best cocktail bars in New York City. Located adjacent to the hotel lobby, The Rum House has a distinct downtown sensibility set in a classic New York scene. Sip an expertly prepared cocktail from their extensive selection of new and classic offerings while enjoying one of the many live musical acts that perform nightly. The Rum House is the perfect place for a nightcap, pre-theater drink or an evening of revelry only steps from your hotel room in the heart of Times Square.
Café Edison – Enjoy a full tasty menu of Big Apple favorites at Café Edison, aptly renamed by theater patrons as the "Polish Tea Room." Hidden amid the obligatorily encyclopedic offerings are homemade Eastern European Jewish cooking that have delighted Broadway producers, playwrights, performers, and tourists, for over 30 years. At timelessly affordable prices the Café Edison is a delicious taste of old New York.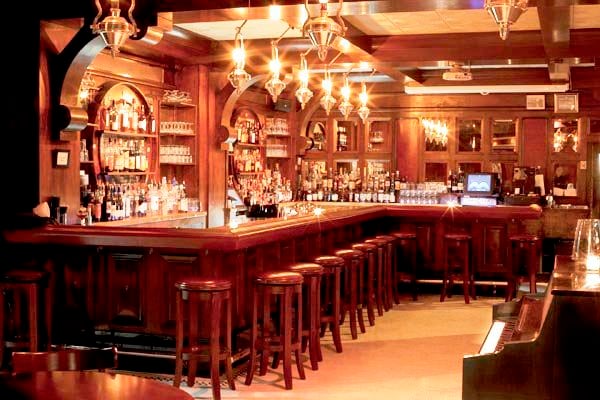 Location
Convenient to Times Square in Midtown Manhattan's entertainment district, located on 47th and Broadway in Manhattan. The Edison Towers is within 10 blocks of Broadway's original shows & revues, Rockefeller Center and Central Park. This tourist's haven is also centrally located to Manhattan's restaurants, shopping and night life.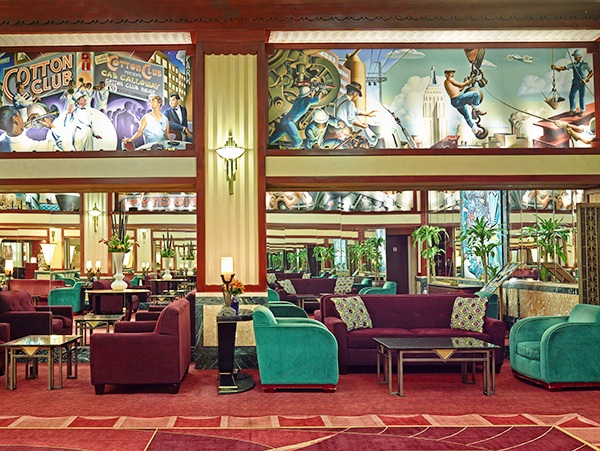 Hotel Edison
228 W 47th St
New York, NY 10036
212) 840-5000
Opened: 1931
http://www.edisonhotelnyc.com/