Immortalized by the 1931 Phil Stong novel State Fair that inspired Rodgers and Hammerstein's Broadway musical and three motion pictures, the Iowa State Fair is a true American classic. For 11 days in August, more than a million people enjoy all the signatures of the modern state fair: stomach-churning rides on the midway (amusement park), sugar-dusted funnel cakes and deep-fried Oreos, and big-name talent like country music artist Garth Brooks and American singer-songwriter Sheryl Crow.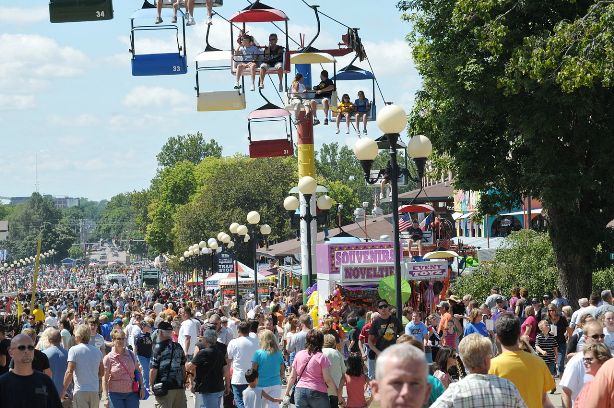 But the Iowa State Fair, which started in 1854 as a way to bring far-flung country folks together to promote the latest methods of agriculture and raising livestock, has managed to stay close to its rural roots. It is one of the world's largest livestock exhibitions—after all, it was Iowa that invented 4-H, the educational organization for rural youth.
There's still hog- (and husband-) calling, cow-chip throwing, the Super Bull contest and, of course, the Butter Cow, sculpted from 550 pounds of butter (recycled and reused for three or four years). For 15,000 people, the fair is the place to strut their stuff, competing in everything from cattle to needlepoint (embroidery done on canvas) to vegetables. (There are nearly 900 food categories alone.)
The competition includes the freakish—in 1992, a jumbo squash weighed in at 412 pounds—and the delicious: the pie department is an old-time favorite, with butterscotch, strawberry, pumpkin, apple and countless other subdivisions. A blue ribbon is the ultimate prize—and a whopping 30,000 of them are awarded every year.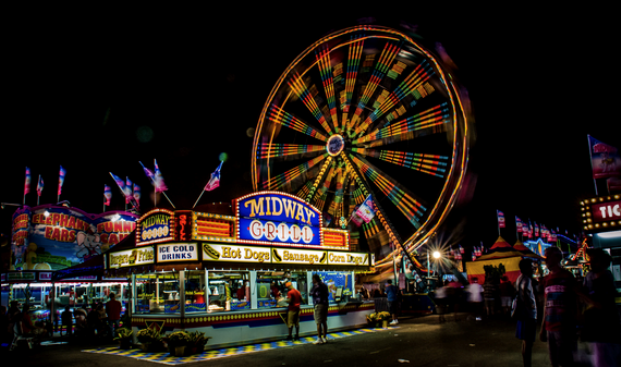 Just about everyone comes to fatten up on foods you can find only once a year—more than 20 kinds served on sticks. The trend started with the 1950s corn dog, a dough-dipped deep-fried hot dog on a stick, and has since spread to pork chops (Iowa has 16 million hogs, that's five for every human denizen), dill pickles, German sausages, hot bologna—even chocolate cheesecake and deep-fried Twinkies.
Local favorites include caveman-size turkey drumsticks, Carl's two-handful sandwiches called Gizmos, and fresh strawberry and peach ice cream from Bauder Pharmacy, an establishment that has been making kids smile since 1923.
Visit the Iowas State fair website