Some of the most popular beaches in Costa Rica are close to the small yet bustling town of Jaco. Two hours away from San Jose, and easily reached by car or comfortable, cheap, ubiquitous buses, Jaco is located on Costa Rica's central Pacific coast in the northern part of Puntarenas province.
This is a party town and, along with Tamarindo to its north, a favorite destination for many Costa Rica vacations.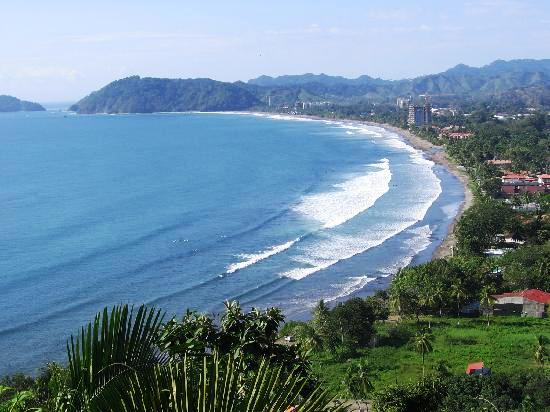 Jaco has long been popular because of its fun, casual and relaxed atmosphere, and many friendly people. More and more tourists from around the world have already learned of this fantastic place and travel to Jaco for its nearby tranquil, beautiful clean beaches and many things to do. And, it is easy to reach by car or comfortable, cheap, ubiquitous buses.
It wasn't too many years ago that Jaco was a sleepy little Pacific beach community. Surfers discovered one great surfing beach after another nearby, a laid-back lifestyle, and cheap places to sleep.
And, of course, secrets are hard to keep and as word got out, more tourists started flocking to Jaco, looking for great relaxation, peace, and fun. Within the last half dozen years, Jaco has boomed.
Where, not long ago, there was a single, quiet (except at night) little road through town, now there are towering high rises and nearby resorts. You'll also find lots and lots of restaurants and bars.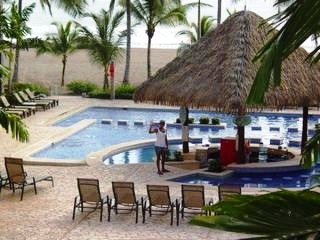 Fortunately, Jaco isn't just a great location for people who have lots of money. Indeed, it caters to any budget. There are hotels and accommodations ranging from luxurious to basic. You'll also find lots of Jaco hostels, clean, cheap, and very popular with the college crowd.
Jaco Beach sits directly in front of Jaco and is very, very popular but, in my opinion, nearby beaches just a couple of miles or kilometers away, are much better. There are fewer people and the waters are some of the purest on earth. The best beaches are awarded Blue Flag ecological certifications for cleanliness.
If you're a surfer or wannabe, it is strongly recommended that you check out spectacular Hermosa Beach, a couple of miles south of Jaco. Though it is not good for safe swimming due to its currents, it is pristine and pure with some of the best surfing on the planet. How good is Costa Rica surfing here? Think world class. Every year professional surfers descend upon Hermosa to participate in a week of world surfing championships. Watch them during the days or party with them at night in Jaco.
In addition to great surfing and partying, the around around Jaco is filled with other great vacation activities.
Visit Arenal, Irazu, or Poas volcanoes, all still active. Windsurf at Lake Arenal in the shadow of mighty Arenal Volcano}.
Visit fabulous Corcovado National Park, described by National Geographic as the most biologically intense place on earth. Take your life in your hands and bungee jump into a deep gorge just outside Jaco. Zipline through tropical forests, whitewater raft, go sea kayaking. Or just lay back and enjoy the beach and romantic sunsets.
And, if you like to fish (or want a new experience), take a day charter from Jaco. The waters are often teeming with wonderful fish, from 400 pound marlin to sailfish, schools of tuna, and dozens of other species. Costa Rica offers some of the world's great off-shore fishing and remember: the worst day of fishing is better than the best day of working.
Whales travel from Antarctica to breed in the warm waters—as do their cousins from the Arctic.
Think you came a long way? Imagine swimming thousands of miles! And, fortunately for us, Costa Rica has the longest humpback whale viewing season in the world. Whale watching is increasingly a popular Costa Rica tourist attraction and tours are readily available much of the year.
Though it is easy to reach by air, Costa Rica remains to be discovered.
Columbus was the first to be enthralled by it and, indeed, gave it its name "Rich Coast."
It remains a spectacular haven with one of every 20 species of plant and animal on the planet residing together in a tiny little country.
So, don't limit yourself to the beaches of Jaco. There's lots more waiting on your Costa Rica vacation.