Ipanema beach is bordered by Arpoador Beach on one end and Leblon Beach on the other end. This beach is considered one of the main centers of activity for the city of Rio. One of the most expensive places to live, the neighborhood is full of wealthy residents.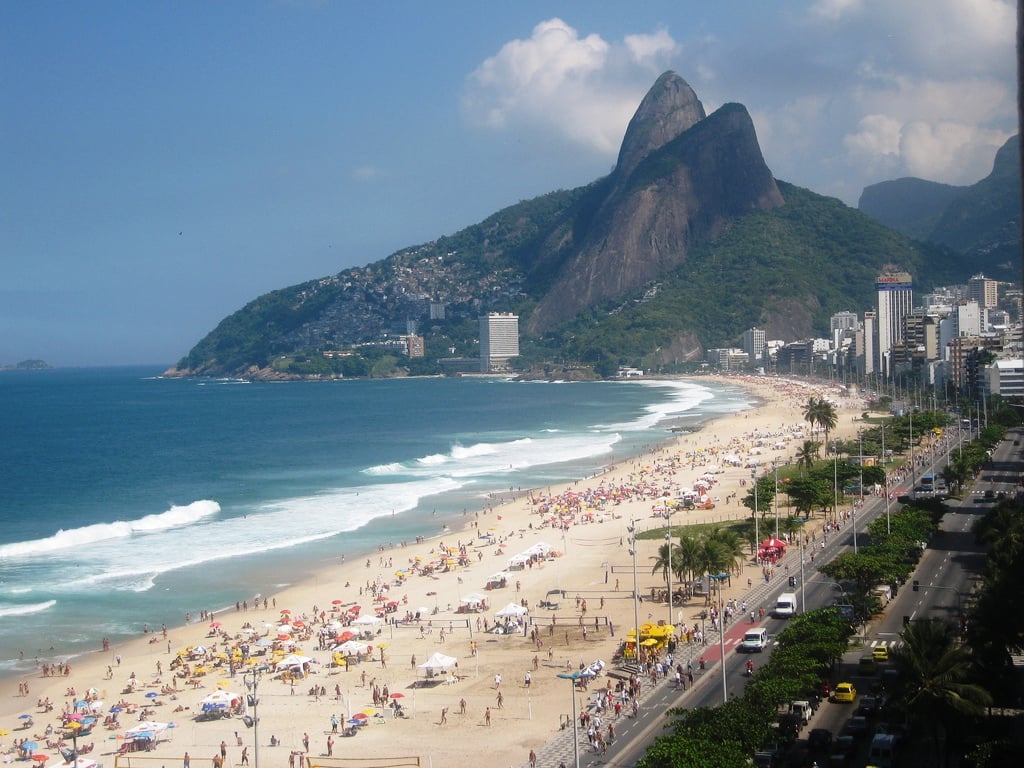 Around the Beach
Considered the "little Paris" of Rio it is renowned for its avant-garde galleries, bookstores and movie theaters. Stop in at H. Stern, one of the most popular jewelry stores in the area, and take a tour of their museum. Not only is it free but you receive a little box of semi-precious and precious stones as a gift. Every Sunday the Hippie Fair is held with vendors selling everything from wooden dolls to swizzle sticks topped with parrots. Garcia D'Avila street has some of the best brands of the city as Osklen, H Stern, Amsterdam Sauer and many others.
Where to Eat & Drink
For the best sushi visit Benkei on Av. Henrique Dumont. If you want to try genuine Brazilian feijoada go to Casa de Feijoada on Rua Prudente Morais. You should plan to fork over some dough at Porcão on Rua Barão da Torre for some of the best and most expensive churrasco in the area. Have an after dinner drink at Garota de Ipanema at the corner of Rua Vinicius de Moraes. Legend has it this is where the song "Girl from Ipanema" was written. Emporio on Rua Maria Quiteria is for the younger crowd with a DJ and rock music. One of the best tips for Ipanema is the Acarajé. It is a croquette, fried in Dendê (Palm) oil, filled with shrimp (spicy!). It can be found in the Hippie fair on Sundays at General Osorio Square.
Where to Stay
To sleep in luxury consider staying at the Fasano or Ipanema Plaza. Both are close to the beach and shopping. Fasano has already received Madonna, Beyoncé and John Travolta, just to say a few. Another great 5 star option, but not so expensive, is the Hotel Caesar Park beach front. For a hotel with middle of the road prices try the Hotel Vermont on Rua Visconde de Pirajá. Budget accommodations are plentiful in Ipanema and consist mostly of hostels. The Adventure Hostel on Rua Vinicius de Moraes is a member of Hostelling International. Casa 6 on Rua Barao da Torre has both double rooms and dormitories and One Love Hostel has a breakfast buffet every morning.