Travel to Croatia is like a breath of fresh air. As much of Europe is bustling with activity and overrun with crowds visiting popular tourist attractions, Croatia is calm and relaxed. It's the up-and-coming hotspot for tourists, but there is still time to visit before everyone else discovers how wonderful it is.
With ancient cities, seductive sandy beaches, and a striking coast along the Adriatic Sea, Croatia also is a world-class vacation destination. When we visited recently, we took a train from Venice to the border of Italy, where we caught a bus through Slovenia to the Croatian seaport city of Rijeka. Rijeka is a perfect jumping-off point for travelers heading to the Croatian Islands. And that is exactly what we did.
After taking a ferry from the mainland to the island of Rab, we met up with Jogi of Sea Kayak Croatia. For the next 10 days circumnavigated the surrounding islands where civilization dates back to 360 B.C. Over the centuries the islands have changed hands numerous times. They were part of the Roman Empire. They were part of the Byzantine Empire. They even were part of the Venetian Empire. Croatia's strategic location has made it an attractive country for emperors to conquer through the ages. We were just as excited to learn the history of these beautiful islands as we were to witness their incomparable beauty.
Viewfinder Tip: Visit your local kayaking club for a pool session to practice your skills before taking on a multi-day kayaking adventure.
Admiring the cliffs of Rab
Taking a kayaking trip is a peaceful way to travel and experience a location from an entirely different view. During our 10-day trip, we paddled around the islands of Rab, Cres, and Krk (yes, that's really how it's spelled), with stops in medieval cities, secluded campsites, and wildlife sanctuaries. Jogi, who organized the trip, had everything prepared for our arrival, including our kayaks, food for 10 days, camping equipment, and safety gear. All we had to do was show up and meet our guide, Bafo, on the beach.
After going through a few refreshers in crossing rough seas and performing wet exits (this is what you have to do if you capsize), we set off in the early afternoon along the rocky and arid coast.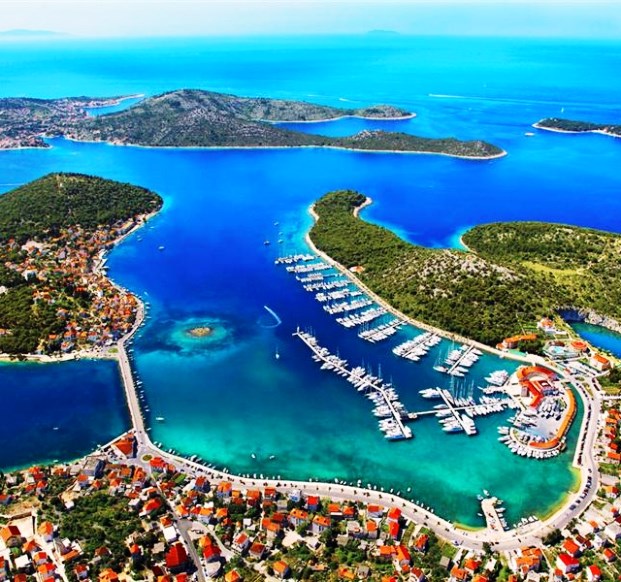 As we paddled beneath the high cliffs of Rab, Bafo told us stories of a recent 120-mile paddling trip he took with Jogi down the coast of Croatia to scout out more routes. The two of them always are looking for new and exciting places to introduce to their clients. They live for the sea.
And who could blame them? The azure waters of the Adriatic Sea were like nothing we ever had seen. With each paddle stroke, the clear-blue seas contrasting with the greys and browns of the rocky cliffs mesmerized us. Condors flew high overhead, occasionally landing in their cliff-side nests. Every once in a while, we paddled over giant boulders in the water below, easily visible because the water was so clear.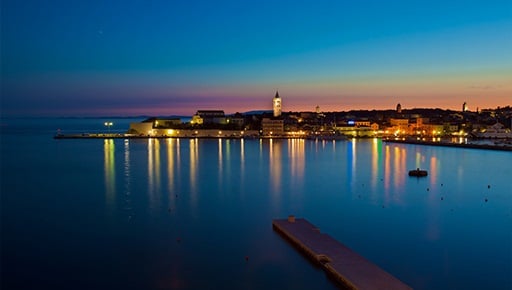 Medievel town of Rab
History and Krk
We paddled for several days in complete seclusion, exploring sea caves and rock arches. We camped on deserted beaches and on Prison Island, an uninhabited island that once was a political prison for enemies of the socialist regime. War and unrest are a major part of recent history in Croatia, and you can still hear the scars of tragedy in the voices of locals when they tell stories of a time not so long ago.
We also had the chance to spend an evening in the tourist town of Baska, on Krk. We enjoyed the amenities of the public campground, taking a much needed shower, We also ate a fine meal at a seaside café.
Our time on Krk followed a rough day at sea, one that included a long and tiring 6-mile crossing. Once we made it to the island, we were supposed to continue up the coast, but feeling shaky after being tossed and turned in huge swells, we lost our nerve and decided to stay in town and wait out a storm. This ended up being a wise choice, as the winds picked up and the storm blew in harder. It was a relief to be under a warm and dry canopy sipping rich coffee as we watched the seas rage.
We spent two days relaxing in town before moving on. Once we reached the medieval town of Krk, we explored Roman ruins and city walls left over from the days of the Venetian Empire.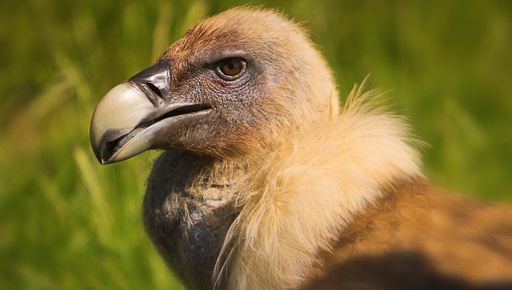 Griffon Vultures of Cres
Birdwatching on Cres
Toward the end of our adventure, we paddled another day to the island of Cres. Here the coastline changed significantly, from rocky bluffs to land covered with vegetation. As we paddled along, we saw several griffon vultures soaring overhead. These large birds nest high on the sea cliffs in the wild. On Cres, they also rest safely at the Cres Eco Center, a rehabilitation facility. Here visitors can see the birds up close and learn more about them. For instance, we learned that the griffon vultures of Cres are the only griffon vultures in the world that roost by the sea.
We also learned that the local population is suffering due to lack of food. Apparently the vultures used to scavenge sheep carcasses, but as farming dwindled the creatures lost their food source. With tourism growing, more tours are frequenting the coast to view these rare birds. Unfortunately some boats get too close and scare young birds into premature flight, which prompts them to fall into the sea and drown. The center is working on rescuing the injured birds and educating the public about how to observe them safely. This is one of the reasons we feel kayaking is the perfect way to explore the coast: You can approach the shore in silence and view the birds without impacting their lives.
Kayaking around the northern islands of Croatia was the perfect blend of adventure, nature, history, and culture. We bonded with our guide, Bafo, over the course of the trip as he told passionate stories about kayaking and his country. The meals were outstanding. The scenery took our breath away. Croatia rivals any other European country for beauty, historic significance, fascinating architecture, and cultural centers. But it's so much more than that: The nation still has an Old-World feel that is becoming harder and harder to find. If you are looking for beautiful landscapes, delicious food, and time-honored traditions get to Croatia as soon as you can.
Where is the best place you've been kayaking?
Expedia compensates authors for their writings appearing on this site, such compensation may include travel and other costs.
This author has either a relationship with, or received other compensation (which may include monetary or in-kind compensation) from, the product or service providers that are the subject of this post.