Kayaking the Croatian Islands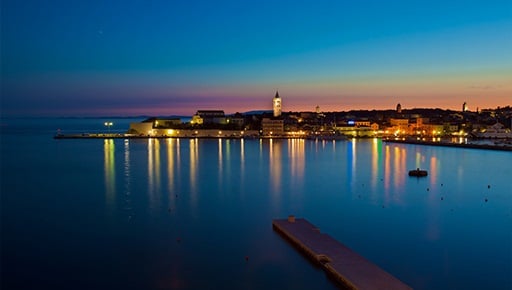 Travel to Croatia is like a breath of fresh air. As much of Europe is bustling with activity and overrun with crowds visiting popular tourist attractions, Croatia is calm and relaxed. It's the up-and-coming hotspot for tourists, but there is still time to visit before everyone else discovers how wonderful it is.
With ancient cities, seductive sandy beaches, and a striking coast along the Adriatic Sea, Croatia also is a world-class vacation destination. When we visited recently, we took a train from Venice to the border of Italy, where we caught a bus through Slovenia to the Croatian seaport city of Rijeka. Rijeka is a perfect jumping-off point for travelers heading to the Croatian Islands. And that is exactly what we did.
After taking a ferry from the mainland to the island of Rab, we met up with Jogi of Sea Kayak Croatia. For the next 10 days circumnavigated the surrounding islands where civilization dates back to 360 B.C. Over the centuries the islands have changed hands numerous times. They were part of the Roman Empire. They were part of the Byzantine Empire. They even were part of the Venetian Empire. Croatia's strategic location has made it an attractive country for emperors to conquer through the ages. We were just as excited to learn the history of these beautiful islands as we were to witness their incomparable beauty.
Viewfinder Tip: Visit your local kayaking club for a pool session to practice your skills before taking on a multi-day kayaking adventure.
Admiring the cliffs of Rab
Taking a kayaking trip is a peaceful way to travel and experience a location from an entirely different view. During our 10-day trip, we paddled around the islands of Rab, Cres, and Krk (yes, that's really how it's spelled), with stops in medieval cities, secluded campsites, and wildlife sanctuaries. Jogi, who organized the trip, had everything prepared for our arrival, including our kayaks, food for 10 days, camping equipment, and safety gear. All we had to do was show up and meet our guide, Bafo, on the beach.
Categories: Abacos, Croatia, Europe, Zagreb
Tags: Adriatic Sea, Adventure Travel, Baska, Croatia, Croatian Islands, Dubrovnik, Eni, etraveltrips, Europe, Historical site, kayaking, Prison Island, Rijeka, Roman ruins, travel