Shopping, history in York

York is a history buff's Mecca, as it's jam-packed with historical buildings, artifacts, and museums. Even if history isn't your strong point, it's fascinating to have a walk through the streets and imagine the centuries long past.
York was established by the Romans in 71 A.D. Looking for a second capital of England after London, the Romans knew that York would be the perfect location, as it is situated at the point where the Ouse and Foss rivers meet. They thought the area would be impenetrable from attack, so they set about building a wall and laid claim to their settlement. Some of the original walls and structures are still standing, including the Multangular Tower, thought to have been built around 310 A.D. Today, only a two-hour train journey from London, York is a great place to visit all year round.
I didn't just come for the history, though… I came to York with another goal. I wanted to shop.
Shop 'till you drop
Right away, I was surprised at the varied shopping options that are crammed into the relatively small city of York. You easily can lose your way in the narrow alleyways (called "Snickelways"), as they all look fairly similar. Each one is full of shops, restaurants, and cafés, so getting lost here is actually quite a fun adventure.
If you like to spend your money in independently run shops and boutiques, shopping in York is without a doubt perfect for you. There are dozens of wares for sale, including textiles, clothing, candy shops, gifts, and home décor. You name it, you'll find it when shopping in York.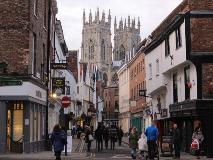 The maze of cobblestone streets and leaning timber-framed buildings are home to both familiar brands and independent stores, some of which have been operating for hundreds of years. Betty's tea room is one of them; in operation since 1939, it is still a thriving business to this day. Book ahead for a wonderful afternoon tea here!
Categories: Abacos, Europe, United Kingdom, York
Tags: ArcelorMittal, British nationality law, Conservative Party (UK), David Cameron, Ed Miliband, England, etraveltrips, European Union, Family vacations, London, Shopping, sightseeing, York