York is a history buff's Mecca, as it's jam-packed with historical buildings, artifacts, and museums. Even if history isn't your strong point, it's fascinating to have a walk through the streets and imagine the centuries long past.
York was established by the Romans in 71 A.D. Looking for a second capital of England after London, the Romans knew that York would be the perfect location, as it is situated at the point where the Ouse and Foss rivers meet. They thought the area would be impenetrable from attack, so they set about building a wall and laid claim to their settlement. Some of the original walls and structures are still standing, including the Multangular Tower, thought to have been built around 310 A.D. Today, only a two-hour train journey from London, York is a great place to visit all year round.
I didn't just come for the history, though… I came to York with another goal. I wanted to shop.
Shop 'till you drop
Right away, I was surprised at the varied shopping options that are crammed into the relatively small city of York. You easily can lose your way in the narrow alleyways (called "Snickelways"), as they all look fairly similar. Each one is full of shops, restaurants, and cafés, so getting lost here is actually quite a fun adventure.
If you like to spend your money in independently run shops and boutiques, shopping in York is without a doubt perfect for you. There are dozens of wares for sale, including textiles, clothing, candy shops, gifts, and home décor. You name it, you'll find it when shopping in York.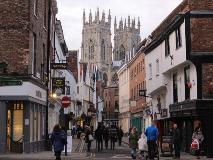 The maze of cobblestone streets and leaning timber-framed buildings are home to both familiar brands and independent stores, some of which have been operating for hundreds of years. Betty's tea room is one of them; in operation since 1939, it is still a thriving business to this day. Book ahead for a wonderful afternoon tea here!
Although independent shops seem to pop up everywhere around town, a great street in York to find some independent traders would be Gillygate. Here you can find:
The Inkwell. A trendy store specializing in books, vinyl, CDs, and lots of other retro gifts, the Inkwell has a café inside that serves hot drinks and cakes for you to enjoy while you browse.
Snowhome. This shop is a cute boutique selling a multitude of gifts, home decorations, and contemporary quirky ornaments from local designers.
Dog & Bone Vintage. This store is stocked to the ceilings with the most amazing array of vintage and retro clothing. One of the reasons I love it so much is because its name incorporates one my favorite cockney slang sayings; dog and bone is slang for "phone." (In other words, this is NOT a store that sells clothes for your dogs.)
The Shambles also is a must-see when visiting York, as it epitomizes the historical charm the city holds. Some of the timber-beamed buildings on the Shambles date back as early as the 1300s, and it's one of the oldest streets in York. The Shambles definitely has a magical feeling to it, and while exploring the area I was reminded of Diagon Alley in the Harry Potter books. Once known as The Great Flesh Shambles, the street once was home to 25 butchers (most of the butchers cleared out in the late 1800s). Today the storefronts in these leaning buildings are filled with boutiques, independent stores, and some well-known brand shops.
Markets galore
There are two notable markets that take place in York. The first is Newgate Market, found on Parliament Street. Parliament Street has brand shops and banks lining either side, but running through the center of the street is a typical British marketplace. Vendors here sell everything from clothes, mobile phone cases, and fresh produce. I particularly loved Swain Family Butchers, who were not only happy for me to take their photo but also gave my dog Nelson a sizeable bag of beef cuttings! They say they do this for anyone with a dog. How sweet is that?
The second market is Shambles Market, which currently is closed for refurbishment but will be opening again soon. Shambles Market has more than 85 vendors selling a variety of local products, food, flowers, and crafts. I hear it's a real hub of activity when the sun is out.
Designer brands
York also has a a great selection of designer brand and boutique stores from which to choose. These are located in a neighborhood called the Quarter. Found a short walk from the Shambles, the Quarter is an area bound by four shopping streets: Grape Lane, Swinegate, Back Swinegate and Little Stonegate. These streets once were home to a pig market (hence the name Swinegate), but today the area is filled with swanky places to shop. My favorite was Mulberry; because this location is an outlet store, its designer items are significantly cheaper than in the main stores. I popped in to browse and the staff members were incredibly friendly. They were more than happy to welcome Nelson into the store, too!
If this isn't enough shopping for you, York is also home to not one, but two shopping centers: McArthurGlen Designer Outlets and Monks Cross Shopping Center, both of which are less than a 30-minute drive from the City Center.
York is a key shopping destination in the UK. The fact that the architecture surrounding these shops is so stunning makes for a very fun experience indeed.
This post is the fifth in a series we are publishing based on stories from a correspondent in the U.K., Kelly Convey. This particular story is based on an article Kelly wrote after a recent trip to York, in England.  The story originally was edited by Brenna Holeman, then adapted here in the United States. We are proud to partner with Visit Britain for this series.