Kings Dominion, located in a suburb 20 miles from Richmond, Virginia, recently was named Virginia's Most Exciting Theme Park. It features 400 acres of rides and fun around almost every corner. You can experience some of the biggest roller coasters in the country, one of the highest drop towers in the world with a 272 foot drop. This happens at 75 miles per hour so is pretty scary!
Another fun aspect of Kings Dominion is Waterworks – a 20 acre water park for your enjoyment when it is hot outside (a common occurrence from June to September here).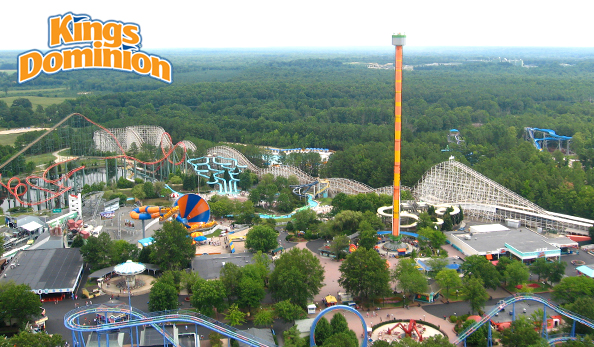 The fun rides at King's Dominion will get you to very high speed and heights. You'll be screaming a lot when your breath is not totally sucked from your lungs. One of the most impressive attractions here is the Hypersonic XLC. This amazing coaster will accelerate you from 0-80 in under two seconds. It shoots passengers 165 straight into the air, and then gently back down with compressed air.
Another exciting roller coaster at Kings Dominion is called the Flight of Fright. This one is powered by linear induction magnets. It is inside and takes passengers shooting through a cobra roll and sidewinder, as well as a corkscrew. And there are many other twists along the way.
The coolest part is that the ride is in almost pitch black. So you do not know what is about to happen. This is one of those rides you may have trouble screaming because you have no air left in your lungs!
One of the exciting additions to the Richmond, VA park is called the Dominator. Opened in 2008, this coaster has broken two world records. Riders are on the biggest, floorless steel coaster at 4210 feet in length. Also, riders experience the planet's biggest vertical loop, and going at speeds as high as 65 mph If you are hot and sweaty after all this excitement, you can take a break at Waterworks.
It is no charge if you have paid to enter Kings Dominion. It includes the Big Wave Bay, which gives you a ride on waves up to 4 feet high. ZoomFlume is a log flume that will be fun for everyone in the family. Lazy River is for people that just want to float along on rafts and take a break in the sun. Tidal Wave Bay is a huge swimming pool with several water slides. Also, try the Night Rider, which is the largest in-the-dark tube slide in the world.
Another big attraction at Kings Dominion for the kids is Nickelodeon Central. This is where your kids can get a hug from some of their favorite TV characters. Also, they have a chance to ride the kiddie roller coasters. The live character shows are a lot of fun for parents and the children. And always remember the more than 30 restaurants that will fill the bellies of everyone in your family. Spending a day with the family at Kings Dominion in Richmond, VA is definitely something all of you will remember.