Jungle Tours of the Riviera Maya
The Riviera Maya region of the Yucatan Peninsula is known for its pristine beaches, fabulous resorts and a plethora of water sports and diving experiences. There is also a rich ecological landscape to be explored around Akumal and Playa de Carmen in the protected jungles of the region. In these jungles, the government has taken steps to preserve the land from development and maintain the integrity of the natural habitats of many species. From toucans to monkeys, you can see them all in their natural surroundings by arranging a jungle tour while you are staying in the area.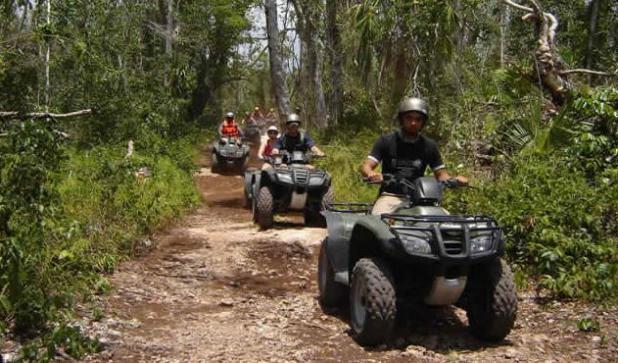 The Sian Ka'an Biosphere Preserve is 1.3 million acres set aside by the Mexican government as an internationally protected natural habitat. In this jungle you will find mangrove swamps, savannahs, tropical forests, coastal lagoons and thousands of species of birds, fish, monkeys and other animals.
You can arrange a tour of the Sian Ka'an Biosphere Preserve with one of the many providers in the area. The best way to see this area is by boat, and private guided tours are available with native tour guides. A boat tour will cross two lakes which are connected to the sea by ancient Mayan canals that were once an integral part of the trade routes for this ancient civilization. As you cruise along the guided boat tour, you will marvel at the beautiful flora and fauna such as orchids and other tropical plant life.
You will also have the chance to explore many Mayan ruins located within the preserve. One fun part of the excursion is when you put on a life jacket and float down the canal. The beauty of these tours is that the proceeds go to help preserving this natural wonder. A day spent at the Sian Ka'an Biosphere Preserve is educational and fun and you will experience first hand one of the last undeveloped coastal areas in North America.
Categories: Abacos, Cancun, General, Mexico, North America, Playa del Carmen, Riviera Maya, Tulum
Tags: Adventure Travel, Akumal, Family vacations, Historical site, Jungle tours, mexico, North America, Playacar, Riviera Maya, Sian Ka, sightseeing, travel, Tulum, vacation, Yucatán Peninsula