Lake Charles, Louisiana it's culinary delights, soulful music, high rolling gaming and the great outdoors. It's good company and quiet reflections, cultural ambience and luxurious accommodations. It's a sub-tropical climate and scores of recreational opportunities. Are You Game?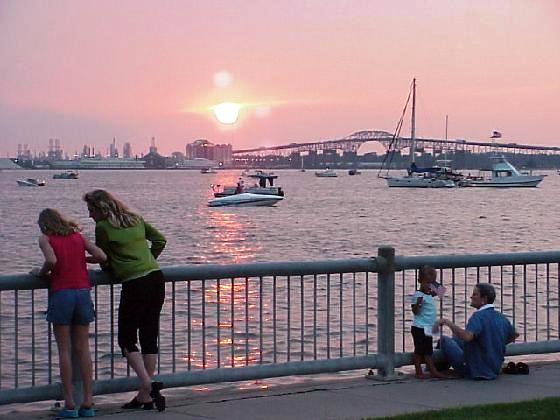 Lake Charles/Southwest Louisiana is aptly named the "Festival Capital" of Louisiana. With more than 75 annual festivals, from the glittering splendor of Mardi Gras to the swashbuckling revelry of the Contraband Days Pirate Festival, there is a celebration almost every week.
You'll find some of the finest regional cuisine, perfected over the last 200 years. From the subtle flavors inherent in the cream and wine sauces of Creole cuisine to spicy Cajun cooking that will have even conservative appetites inquiring about alligator and other "swamp things," dining in Lake Charles/Southwest Louisiana is always memorable. So go ahead and indulge in a legendary Louisiana crawfish boil, where eating with your hands is not just acceptable, but the rule.
Fancy yourself as a chef? Lake Charles/Southwest Louisiana is your vacation destination for fresh seafood. Come on down and throw out a line to catchy tasty blue crabs ripe for boiling or concocting a savory crab stew. Grab a cast-net and pull in some shrimp for an appetizer. Saltwater fishing excursions in the Gulf of Mexico will net you loads of redfish and king mackerel while an inland charter is perfect for hooking speckled trout and flounder.
After a full day of outdoor adventures, it's time to kick-back and relax. From Lake Charles' golf greens and spas to horseracing and island time getaways, you will fall in love with the variety of casino venues and things to do.
For the perfect family trip, group tour, reunion or full-fledged convention, Lake Charles/Southwest Louisiana epitomizes the definition of a melting pot. With its rich history and varied ethnic influences, experience authentic Louisiana spirit and the real meaning of Southern hospitality!
Categories: Abacos, Lake Charles, louisiana, USA
Tags: Adam Henry, etraveltrips, Family vacations, Fishing Vacation, Jim Tomsula, Kevin Hardy (linebacker), Kevin Hill, Lake Charles, Louisiana, McNeese State University, Romantic getaways, sightseeing