The stunning alpine Lake Tahoe is known as the Jewel of the Sierra. Its deep sapphire blue water surrounded by the soaring, snow capped mountains forms a postcard vista that leaves visitors convinced of a higher power. It is one of the largest (192 square miles and boasting its own Coast Guard), deepest (only Oregon's Crater Lake is deeper) and, at 6,229 feet, highest lakes in America.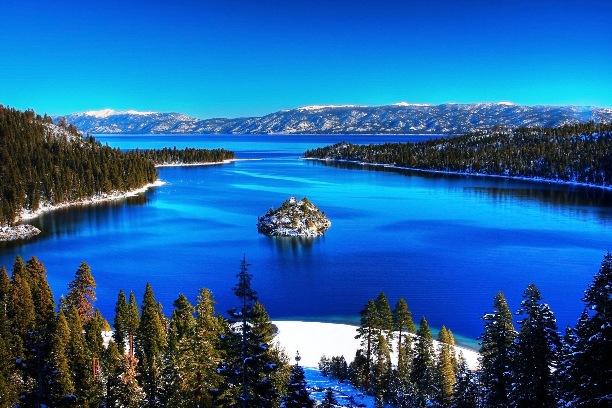 Covering more than 17,520 acres along both sides of the Nevada and California border, the Lake Tahoe region is best known as one of the nation's premier ski destinations, with more resorts and terrain than any other on the continent. Seven skiing and snowboarding resorts offer world-class accommodation and runs that range from bunny slopes to those requiring Olympian skills, all enhanced by an average annual snowfall of 34 feet (the deepest in the U.S. and among the deepest in the world) and 44 weeks of sunshine a year. A beauty for all seasons, Lake Tahoe is also a destination for all interests.
Gambling aficionados will find several major resort-hotel-casinos on the Nevada side, including Caesars Tahoe and Harrah's. But few will resist getting outdoors to explore what proves to be one big photo opportunity.
The tourist industry is not exaggerating when it speaks of 'the most beautiful drive in America', the 25-mile Lake Tahoe-East Shore Drive (Highways 50 and 28 between Stateline and Incline Village) that winds along the footprint of the lake with water vistas on one side and mountain views on the other. Those in shape should park the car and take to the Tahoe Rim Trail, a 165-mile long, 24-inch single-track trail that encircles the entire lake (it can be accessed at ten different points).
Whether you're on foot, horseback or mountain bike, it's one of the most beautiful lakeside excursions anywhere. Those who manage to do the whole thing (all at once or in sections) can join the 165 Mile Club, and be rewarded with a patch, a certificate and a shout-out in the club's book and website.