A developer is rolling out plans to build a 500-foot viewing wheel on the Las Vegas Strip that would be higher than the London Eye and give visitors an unparalleled view of Sin City.
Developer Howard Bulloch of Compass Investments released details of the project Monday to reporters, local lawmakers and business leaders at the site across Las Vegas Boulevard from the Mandalay Bay hotel-casino.
Bulloch wants the Skyvue Las Vegas Super Wheel to open in 2013 as part of a $100 million privately funded project also including a roller coaster and 200,000 square feet of retail, restaurant and entertainment space.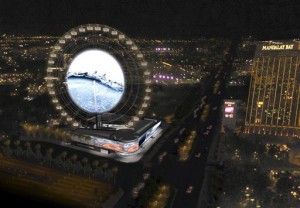 A rendering of the Ferris-style wheel shows its rotation perpendicular to the Strip. That means unobstructed views of the city's casino row from the 40 gondolas.
"Skyvue Las Vegas will complement both the hospitality and entertainment industries," Bulloch said in a statement. "This world class attraction fills a niche in our economic recovery, creating jobs and offering a new and unique entertainment offering for the tourist base."
Workers were to begin clearing the nearly 11-acre site on Monday, officials said. The project will require demolition of a motel that was built in the 1950s.
The 40 gondolas will each hold up to 25 passengers and they will be available to be rented out for private parties with catering and drinks, developers said.
The main bearings for the wheel, on display Monday, are being provided by the same German manufacturer that supplied the bearings for the London Eye.
In announcing the project, its developers cited the success of the London Eye as a reason the similar project might be successful in Sin City. The wheel in London attracts 3.5 million visitors per year, they said.
Federal Aviation Administration officials were reviewing plans for the wheel and its height to determine if it might hamper operations at nearby McCarran International Airport, agency spokesman Ian Gregor said. No FAA recommendation has been made.
Casino company Caesars Entertainment Corp. also plans a tall viewing wheel as part of its Linq project behind several of its Las Vegas Strip casinos.
For Hotels in Las Vegas click the link below
https://www.etraveltrips.com/eTravelTrips/hotels_list.php?vresort_name=&ifacility_id=&vcountry=&vstate=&vcity=las+vegas&search_rosort=search