"Humble yourselves in the sight of the Lord, and He shall lift you up." (James 4:10). That's the prescription that Pennsylvania's Amish and Mennonite communities have lived by since the 1720s, when they settled here as part of William Penn's grand experiment in religious tolerance. Both groups had their beginnings in the European Anabaptist movement of the 16th century, which taught that baptism should occur at adulthood, and that those so baptised should live apart from the larger society.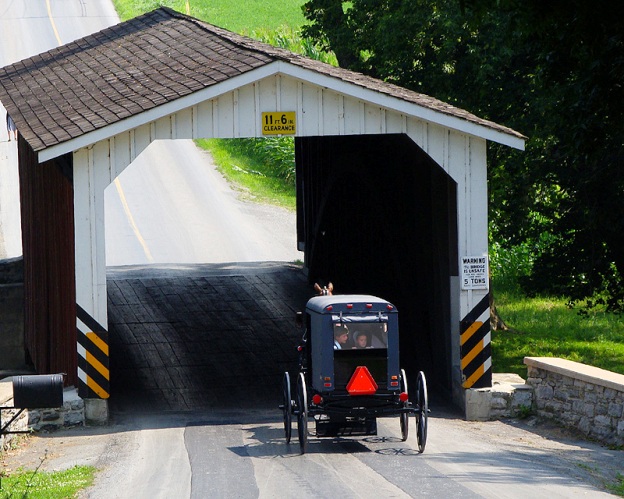 Today, the counties of southeastern Pennsylvania are home to some 70,000 of the 'Plain People', including members of the strict Old Order Amish; the more liberal New Order Amish, Mennonites and Brethren; and more than a dozen other Anabaptist splinter groups. The Old Order, some 25,000 strong, dresses as it has for centuries, with plain, coloured aprons and bonnets for the women, and braces and broad-brimmed straw hats for the men. They get around by foot or in horse-drawn buggies. They educate their own and live mainly by farming, maintaining patchwork fields that look much as they did when their German and Swiss ancestors first arrived. It's an appealing image, one that inspired Witness, a popular film in the 1980s, and draws tourists every summer.



The 'English'—that means you, and all other outsiders—should respect the communities' privacy, but that doesn't mean you can't take a nice meander down the area's back roads. Area towns—with names like Paradise, Bird-in-Hand and Intercourse—each have attractions, markets and a mass of B&Bs to recommend them. Lancaster City features the Lancaster Cultural History Museum, the Lancaster Quilt & Textile Museum and a Central Market that has been in operation since the 1730s. Stop in for crafts and locally grown produce: meats, cheeses, home-made pretzels and shoofly pie. For an overnight stay, the Kings Cottage B&B does the trick, with eight classically elegant rooms in a 1913 Spanish-style mansion.
To the north, the town of Lititz was founded by Moravians in the late 1700s as a closed religious community, only opening to outsiders nearly 100 years later. Today, its quaint Main Street boasts colonial houses, antiques shops and the Sturgis Pretzel House, the oldest commercial pretzel bakery in the U.S. Just outside town, the lakeside Swiss Woods B&B offers seven rooms decorated in modern country style, and can arrange for guests to have dinner in an Amish home.
The Ephrata Cloister was founded by Conrad Beissel and his followers, who, between 1735 and 1746, built homes, meeting houses, bakeries, mills and a printing office, all while practising their own distinct blend of proto-mysticism, Anabaptism and celibacy. A dozen of the cloister's original buildings have been restored and are open for tours. Little more than a quarter-mile from the cloister, the Historic Smithton Inn has been welcoming guests since 1763, when it was built as a stagecoach stop. About 12 miles east, Churchtown offers another great choice: the Inn at Twin Linden, with bucolic grounds and country-style guest rooms with whirlpool tubs and fireplaces.
Further north, in Berks County, Kutztown hosts the country's oldest ongoing folklife festival every July. You can pick up a hex sign here—one of those colourful bits of folk art that is a trademark of Pennsylvania Dutch Country.