Mirror Lake Inn Resort and Spa New York
The Mirror Lake Inn Resort and Spa located just 30 minutes from I-87, in the majestic Adirondack Mountains of Upstate New York and the Olympic village of Lake Placid, the Mirror Lake Inn is a gracious traditional Inn on the lake shore with all the amenities of a modern resort. Warm mahogany walls, polished walnut floors, marble and stone fireplaces, antiques, and chandeliers provide a cozy atmosphere and understated elegance.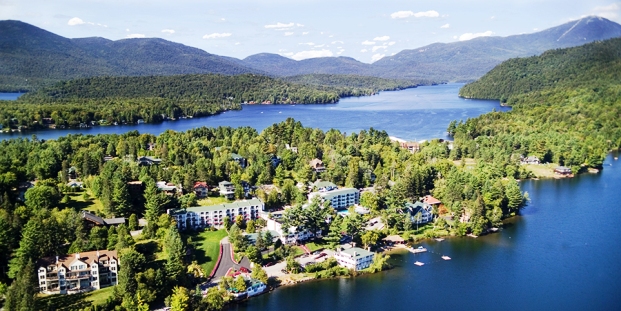 Guest rooms range from comfortable and homey Colonial Bedrooms to luxurious Placid Suites. The luxurious health spa features rejuvenating massages and pampering body treatments as well as a cardio-vascular exercise room with magnificent views of the lake.
The lodging is one of the high points of your stay at the Mirror Lake Inn! It is relaxed and friendly, in the style of true Adirondack hospitality. Here you can find a cozy corner, a crackling fire, relaxation and the gentility of afternoon tea.

Guest rooms
All 128 rooms and suites are equipped with work desk and safe deposit box. Accommodations range from luxurious and spacious and private Lake Placid classic suites, to incredible lakeside, lakeview or mountainview rooms, to our comfortable and cozy Colonial rooms. All are uniquely elegant, offering Adirondack character and classic charm. Choose from a variety of beautifully appointed rooms and private suites featuring elegant décor and special amenities.
Select one of the featured Lake Placid lodging packages or book a Classic Room with a private balcony, a Signature Room with added special touches or a Family Room offering separate bedrooms and multiple bathrooms. For the ultimate indulgence, book a Colonial Suite and enjoy 10 foot cathedral ceilings and 8 foot doors, with large living areas, oversized marble bathrooms and stone fireplaces. Browse through our rooms comparison chart to discover the perfect room for you. Make your Lake Placid hotel reservations today! Click for more information about accommodations.
Categories: Abacos, Lake Placid, New York, USA
Tags: Adirondack, Adirondack Mountain, Adventure Travel, Boutique Hotels, Family vacations, Hotel, Jacuzzi, Lake Placid, Lake Placid New York, Luxury Hotels, Mirror Lake, Mirror Lake Inn, New York, new york hotels, Resorts, Romantic getaways, Skiing, Spa, Wine Spectator, Winter Olympics