Ten miles out to sea, tiny Monhegan Island is Maine in miniature, a 700-acre artist's rendering of everything that makes this stretch of coast called Down East great. On its eastern side, towering headland cliffs greet the pounding Atlantic, while from the western (village) side hikers can set out on 17 miles of wooded trails that criss-cross the island. Only about 60 people live here year-round. There are no cars, and no paved roads; until 1984 there wasn't even electricity. What there is is peace and quiet—and artists, lots of artists.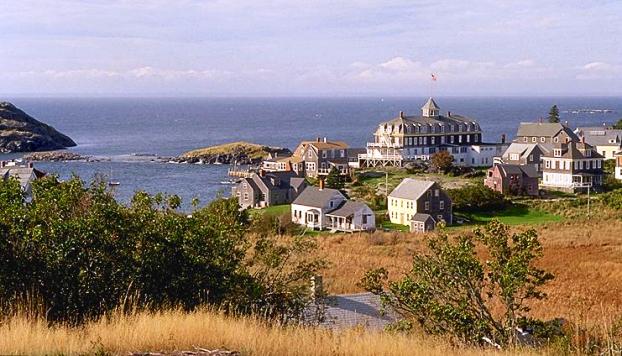 First put on the map when Virginia governor John Smith visited in 1614, Monhegan didn't get any attention from the art world until 1858, when painter Aaron Draper Shattuck paid a visit. Over the years that followed, artists such as Edward Hopper, Robert Henri and Jamie Wyeth arrived to take advantage of the island's incredible light and rugged landscapes. Thanks to a preservation movement led by Thomas Edison Jr. in the early 1950s, two-thirds of Monhegan is maintained in its pristine yet wild state.
Visitors arrive by ferry, stepping off into a tidy coastal village, home to almost every bit of civilisation on the island: its galleries, its lobster fleet, its markets and restaurants, and its hotels. Nothing is more than a few minutes' walk from anything else, including some 20 artists' studios open to the public in summer.
Grab a trail map from anywhere in town and take off into the central forests. Head northeast, past the old ice pond towards Cathedral Woods, where tall stands of fir and spruce create a spiritual space Thoreau would have loved, its aisles carpeted with moss, ferns and wildflowers. From here, head south along the coast to Burnt Head, whose 160-foot sea cliffs are among the highest in Maine, in summer filled with squawking seabirds.
Categories: Abacos, Maine, Monhegan Island, USA
Tags: Aaron Draper Shattuck, Adventure Travel, Edward Hopper, etraveltrips, Family vacations, Jamie Wyeth, Maine, Maine Vacations, Monhegan Island, Monhegan Maine, Robert Henri, Rockwell Kent, Thomas Edison, travel, vacation