National parks around Seattle
Exploring three great parks near Seattle, three different ways. I'll never forget the first time I saw Mt. Rainier more than 25 years ago.
Shortly after moving to Seattle, I was riding the bus on Highway 99. I looked out the window to see the mountain standing impossibly tall, given its location nearly 90 miles from the city. I craned my neck until Mt. Rainier passed out of view.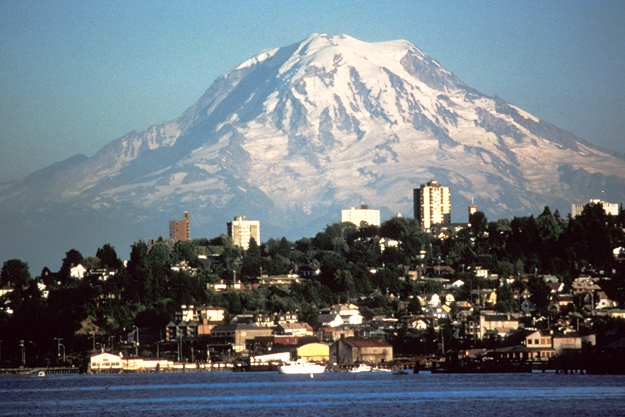 To this day, I still look at the mountain in awe. Probably because it never looks the same. One moment it might be partially obscured by clouds and the next it's magically free from obstruction, glowing with orange light in the setting sun.
While I love Mt. Rainier from afar, I adore it even more up close. As a Seattleite, I have the glorious benefit of living within driving distance not only of Mt. Rainier National Park but also North Cascades and Olympic national parks. Living so close, I've had the distinct privilege of making dozens of trips to these parks. With so many trips under my hiking belt, I've learned a few ways to enjoy these unique parcels of outdoorsy goodness. Here are some of my tips.
Mt. Rainier National Park
Drive. There are a few entrances into the park. No matter which one you choose, you'll find spectacular views. Most people driving from Seattle will enter from the southwest at the Nisqually entrance, near Ashford. Not all of the entrances are open year-round and not all of them allow access through the entire park, but usually you can drive from southwest to northeast. Whether you drive the entire park or only a portion of it, stop at the Paradise Jackson Visitor Center to take in the views and (in the spring) the wildflower meadows.
Driving to Mt. Rainier National Park
Hike. The number of hiking trails in Mt. Rainier is almost overwhelming, from easy walks to overnight trips such as the Wonderland Trail (a 93-mile path that encircles the mountain), there is something for quite literally every type of hiker. While you don't need a permit for day-hikes, you'll need one for anything requiring overnight wilderness camping. The park has been receiving record numbers of requests for permits in 2015, and many people have been denied due to the number of requests. This especially has been true for the Wonderland Trail—thanks to the popularity of the book and movie, "Wild."
Categories: Abacos, Seattle, USA, Washington
Tags: Adventure Travel, Eastern Washington, etraveltrips, Family vacations, Mount Rainier, Mount Rainier National Park, National Parks, North Cascades National Park, Olympic National Park, Seattle, Snoqualmie Falls, Snoqualmie River, The Seattle Times, Thunder Creek (electoral district), travel, Washington