Lets see what's available in the U.S.A's most popular City. Look at these hotels, you may be surprised.
85 West Street at Albany Street · New York, New York
This is a premier hotel. The name was changed, some time ago, from the New York Marriott Financial Centre. It boasts all the normal features, you would expect, from a Marriott hotel and the prices are quite reasonable, for a New York hotel. There is valet parking available, which attracts an additional fee. Attractions include the Statue of Liberty, little Italy, Chinatown, Greenwich Village and SoHo along with the South Street port and the Ellis Island ferry and should you be so inclined there is always the New York stock exchange. The area has several quality places to eat, which include; The Palm restaurant, which is a steakhouse; Capriani Wall Street, if Italian is more to your taste and Delmonico's steakhouse.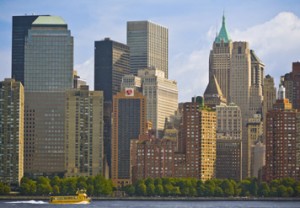 Within the hotel you will have access to wired, or wireless, internet, Unlimited local and long distance calls (a fee may apply). Service animals are allowed, for persons with recognised disabilities, but pets are not allowed. Also available are; safe deposit boxes, a turndown service, foreign exchange, newspapers (can be delivered to your room on request), a gift and news stand and room service available 6am until midnight. Nearby there are car rentals available and a beauty shop, enquire at the front desk. Dry cleaning and laundry service can be arranged, at an extra cost.
The Roosevelt Hotel, New York city
45 EAST 45TH ST. AT Madison Avenue, New York, New York
This is a well-appointed hotel that is located in the mid-town area of Manhattan. The name is well known but the prices are not as high as you may think, and a variety of packages, that include entrance to local attractions are available. The hotel offers several different levels of accommodation, from a basic room to a full suite, but all are maintained to a high standard and benefit from all the hotels facilities. The guest rooms benefit from: High speed internet access, HD televisions (flat screen), clock radios that are mp3/ iPod compatible, a safe and their own climate controls for your comfort.
The hotel has several dinning or drinks areas, all of the high standards you would expect from such a hotel and during the warm months there is a rooftop lounge, where you can relax and look at the city vista. Room service is also available, for that intimate occasion.
For more hotels and deals in New York City click the link below
https://www.etraveltrips.com/eTravelTrips/hotels_list.php?vresort_name=&ifacility_id=&vcountry=&vstate=&vcity=new+york&search_rosort=search