A great way to combat the sweltering heat on a hot summer day is to make a splash at a waterpark. There are a wide variety of parks all over North America where visitors can experience slippery loops, drops and high speeds on heart-stopping waterslides, relax in heated pools and embark on adventurous themed rides set in Ancient Egyptian pyramids and castles inhabited by dragons. It's time to grab a towel, a tube of sunscreen and venture out to the best spots to get wet.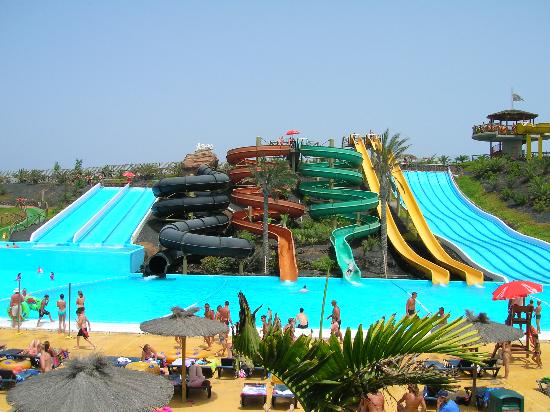 1. Typhoon Lagoon (Disney) – Orlando, FL
This waterpark opened on June 1, 1989 and has the world's largest outdoor wave pool. The theme of the park is the "Disney legend" of a typhoon that wreaked havoc upon a formerly pristine tropical paradise. Ships, fishing gear, and surfboards are strewn about where the storm flung them. The centerpiece of the park is "Miss Tilly," a shrimp boat impaled upon a mountain named "Mount Mayday" that erupts a 50-foot geyser of water every half hour. The parks' mascot is named "Lagoona Gator" who is related to Blizzard Beach's mascot Ice Gator.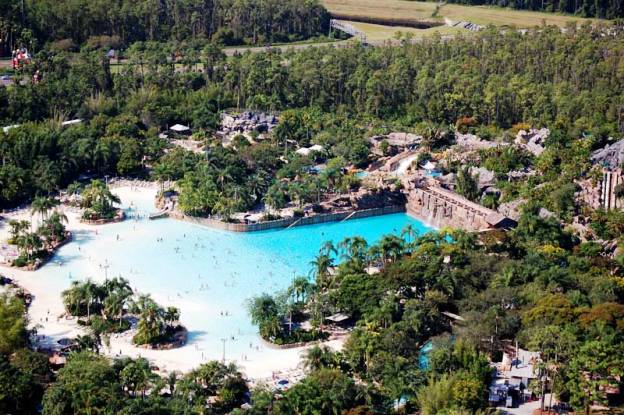 2. Schlitterbahn Waterpark
New Braunfel,TX
The two parts of the Schlitterbahn Waterpark are separated by several city blocks with free parking available at both locations and a free shuttle between the two areas. Schlitterbahn East is further divided into two themed areas; Surfenburg, built in 1991, and Blastenhoff, built in 1996. In 1994, Schlitterbahn opened the first ever uphill water ride, known as the Dragon Blaster. Since then, they have added several other uphill water coasters, the Master Blaster and the Family Blaster. The Master Blaster in particular has often been voted as the best water ride in the US by travel publications.
3. Disney's Blizzard Beach – Orlando, FL
Disney's Blizzard Beach opened on April 1, 1995 and was the third WDW water park after River Country and Typhoon Lagoon. The theme of the park is the "Disney legend" of a freak snowstorm in the area, leading to the construction of Florida's first ski resort. Naturally, the snow didn't last long, leaving behind a collection of waterlogged but snow-less ski jumps and chair lifts. The failed resort was in the process of closing for good when an alligator was seen sliding down a flume and splashing into a pool of water, screaming "Yahoo!!!!" Thus the "ski resort" was reborn as a water park.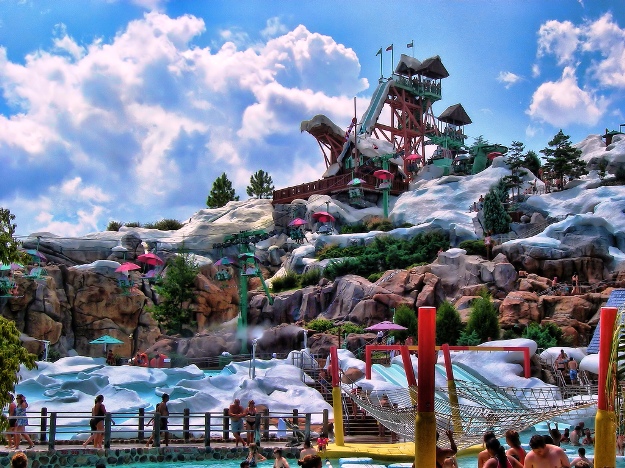 4. Raging Waters – San Jose, CA
Raging Waters, Northern California 's Largest Waterpark, offers 23-acres and millions of gallons of family fun and attractions, including the newest ride Dragon's Den. Raging Waters features thrilling high-speed slides, and family attractions like the 350,000-gallon Wave Pool and The Pirate's Cove- an interactive themed water fort. Raging Waters is located off Tully Road on the grounds of beautiful Lake Cunningham Regional Park in San Jose and is easily accessible from major highways.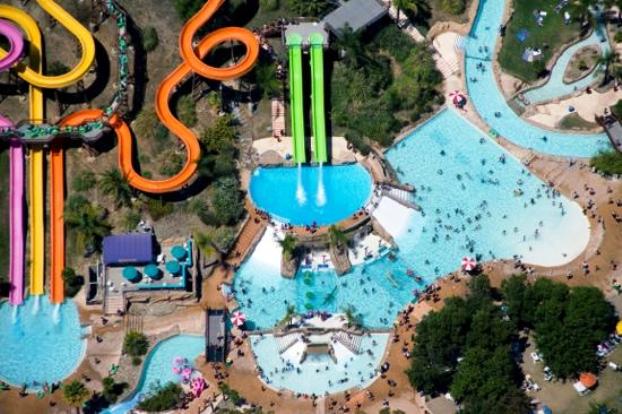 5. Wet 'n Wild – Greensboro, North Carolina
Founded by SeaWorld creator George Millay in Orlando, Florida in 1977, the company also has a park in Greensboro, North Carolina (Wet N' Wild Emerald Pointe). It is considered the first major water park in the United States, and Millay was given the first ever Lifetime Achievement Award from the World Waterpark Association who named him the official "Father of the Waterpark."

6. Noah's Ark – Wisconsin's Dells
America's Largest Water Park. Residing on 70 acres in the heart of Wisconsin Dells, Noah's Ark, America's Largest Waterpark, boasts 41 waterslides, 2 huge wave pools, 2 endless rivers, 4 childrens water play areas, Paradise Lagoon activity pool, 2 group amusement rides, 18-hole mini golf, 3 arcades, shopping, gourmet desserts and much more!  Noah's Ark is continually evolving, offering the most variety of water rides anywhere in the nation. This summer is no exception with the introduction of "Time Warp" the world's largest family bowl ride.
7. SplashTown Waterpark – San Antonio, TX
SplashTown is Houston's largest and most diverse water park, featuring 40 acres and over two million gallons of summer fun. From the kid-friendly Crocodile Isle to the five-story drop of The Texas Freefall, SplashTown offers spectacular water adventures, splashy river rides and thrilling body slides, including theTORNADO–Ride The Ultimate Storm!

8. Water World – Denver, CO
Water World, one of America's largest family waterparks, is located just 15 minutes north of downtown Denver, Colorado, on 64 beautifully landscaped acres. Water World is celebrating it's 26th year of operation. It features the biggest variety of attractions (42) in America, from Wally World for the tots, to Voyage to the Center of the Earth for the entire family. Water World has more family tube rides than any other park in America. Thrill rides are in abundance also, like the Red Line speed slide. Plenty of picnic areas are available, from covered pavilions to beautifully landscaped grass areas.
9. Water Country – Portsmouth, NH
Water Country is one of the few amusement parks in the area to allow and encourage its guests to bring picnic lunches into the park. They provide several large picnic areas at various points so guests can eat without having to leave the park. Their rides include: Adventure River, a lazy river-type ride, Black Hole and Warp 8, two tube rides, the black hole being pitchblack, and Warp-8, Double Dive Boggan, the only head-first slide in the park Double Geronimo, not for the faint of heart, Dragon's Den, a toilet bowl ride and a Giant Wave Pool.
10. White Water – Atlanta, GA
White Water rides consist of THE CLIFFHANGER – One of the tallest freefalls in the world; TORNADO – Ride the ultimate storm; RUN-A-WAY RIVER – The only ride of its kind in the country, The Run-A-Way River is a 735-foot tunnel raft ride for up to four riders. It's the longest ride in the park, with "explosion curves" and "power dips" that accelerate riders and send them scaling the sides, for an elevation descent of over 70 feet!