America's great music venue Carnegie Hall New York City
Carnegie Hall is a concert hall located in New York City at Seventh Avenue and Fifty Seventh street. Carnegie Hall opened in 1891 and is still used today. Over the last century many world renowned artists have performed there including Peter Tchaikovsky, Igor Stravinsky, and Maurice Ravel and George Gershwin. The Hall is one of the most famous concert halls in the world. The acoustic sounds are impeccable and the architecture is extravagant.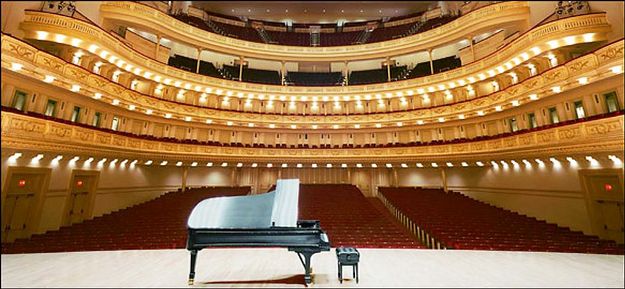 After the Civil War the United States of America became transfixed with music. New Yorkers were no exception. They got swept up in the craze like everyone else. But there was a problem in New York. The city did not possess a suitable concert hall. Being one of the most important cities in the world, New York needed a top notch place to play and listen to music. The city also needed a place to serve as a cultural center. Carnegie Hall fulfilled both of these needs.
Construction
Andrew Carnegie was one of the richest men at this time. He enjoyed music just like everyone else. Carnegie agreed that that New York City needed a concert Hall and decided to give money for this purpose. He proposed this to the city administrators, they approved of it and was in the works. Construction began on May 13, 1890. Carnegie Hall was constructed over a span of seven years.
Architecture
The chief architect was William Burnet Tuthill. He was very interested in the acoustics of the buildings. The sound quality in the hall is first-rate. Tuthill chose the style for the building from the Italian Renaissance. It is reminiscent of the Victorian age because it is so elegant. The interior of Carnegie Hall is beautiful. It contains marble in its foyer with great slanting arches in the ceiling and the doors. In the corners of the foyer there are columns with intricate carvings. This is apparent inside and outside of the building. The exterior is comprised of bricks which give the building a reddish hue. Both the inside and outside had the look of sophistication. It attracted the richest people and socially elite.
Categories: Abacos, New York, New York City, USA
Tags: Carnegie Hall, City Vacations, etraveltrips, Family vacations, Franz Rummel, George Gershwin, Historical site, Music Hall, Music Venues, National Historic Landmark, New York, New York City, Pyotr Ilyich Tchaikovsky, Seventh Avenue, United States