Palm Springs, California – Where the desert blooms
Palm Springs, California. Imagine the desert here as the bottom of a vast sea. Many millions of years ago, that's what it was. By 10 million years ago, the waters had receded and the climate was hospitable to prehistoric mastodons, zebras, and camels. As recently as 10,000 years ago, the Colorado River still spilled into this basin intermittently, and around AD 700 Lake Cahuilla formed.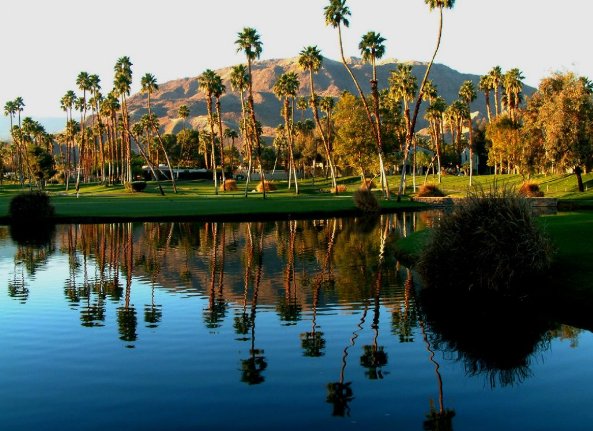 The first human inhabitants of record were the Agua Caliente, part of the Cahuilla people, who settled in and around the Coachella Valley (the northwestern portion of the Colorado Desert, between the San Jacinto and Little San Bernardino mountain ranges) about 1,000 years ago. Lake Cahuilla dried up about 300 years ago, but by then the Agua Caliente had discovered the area's hot springs and were making use of their healing properties during winter visits to the desert.
The springs became a tourist attraction in 1871, when the tribe built a bathhouse (on a site near the current Spa Resort Casino in Palm Springs) to serve passengers on a pioneer stage highway. The Agua Caliente still own about 32,000 acres of desert, 6,700 of which lie within the city limits of Palm Springs.
In the last half of the 19th century, farmers established a date-growing industry at the southern end of the Coachella Valley. By 1900 word had spread about the manifold health benefits of the area's dry climate, inspiring the gentry of the northern United States to winter under the warm desert sun. In the mid-1900s, farmers southeast of the Coachella had transformed the barren Imperial Valley — home of the broad, brackish Salton Sea — into rich fields of tomatoes, corn, and grain.
The Anza-Borrego Desert, which stretches from the southern end of the Coachella Valley nearly to the Mexican border, was then a mostly unpopulated desert outpost occupied by a few hardy homesteaders and visited in winter by a few adventurous campers. Growth hit the Coachella Valley in the 1970s, when developers began to construct the fabulous golf courses, country clubs, and residential communities that would draw celebrities, tycoons, and politicians.
Categories: Abacos, California, Palm Springs, USA
Tags: California, Coachella Valley, Family vacations, Golf, Golf Vacation, Lake Cahuilla, Palm Springs, Palm Springs Art Museum, Palm Springs California, Palm Springs Walk of Stars, Shopping, sightseeing, United States