Peru's Amazon is a vast region of mostly unexplored wilderness. However it is possible to take a tour of the Amazon rainforest. Choosing where to go will depend on how much time you have and what kind of trip you want to take. For the truly adventurous, exploring the Manu region of jungle is well worth considering.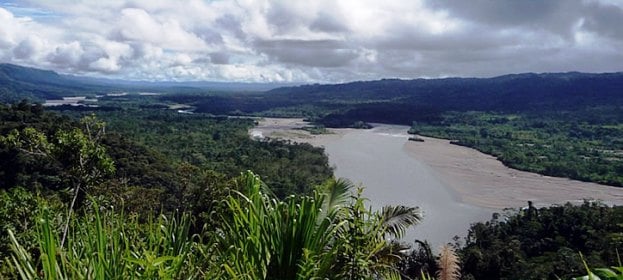 Both the Tambopata and the Manu sections of the Peruvian Amazon are relatively easily reached from Cusco. For Manu, you can either go by bus or fly to Puerto Maldonado. To enjoy Manu, you will need to allocate at least 5 days. If you don't have that much time available, you are better off going to Tambopata where you can get at least a taste of the jungle experience with just 3 days and 2 nights.
Manu National Park has been declared a UNESCO World Heritage Site and is much less travelled than the Tambopata National Reserve. There is more potential of seeing a greater variety of animals there, but you will need to allocate more time for going there. Although 5 day trips are available, the longer you can go, the deeper get into the jungle which will give you more possibilities for wildlife viewing.
Among the many types of animals that make their home there are jaguars, giant otters, tapirs, black caimans, spectacled bears and, of course, a variety of monkey species. There are more than 1000 species of birds that live here as well, making it a birdwatcher's paradise. In some cases, the tours make their ways from Cusco by car, a full day's journey. Others will have you fly into Puerto Maldonado, a trip of less than 1 hour and then go by river.
Tours to the Tambopata Reserve all begin from Puerto Maldonado. Although you can take a bus, you will be better off flying as the journey by ground is long and not particularly comfortable. The tour lengths start at 3 days and 2 nights but, as with Manu, the longer you can go for, the more you are likely to see.
Many of the same species of animals make their home in Tambopata as in Manu, although the variety is not quite as great. You will still usually have opportunities to see monkeys, giant otters, capybaras, caimans and many many birds. If you are particularly interested in observing birds, be sure to look for a tour that includes visits to Clay Lickswhere one can often see great numbers of parrots.
Available tours differ not only in lengths but also in how much walking versus boating you do and in the type of accommodations and amenities provided. Lodges can vary from the extremely rustic to the surprisingly comfortable.