Visiting the Netherlands means plenty of gorgeous scenery and friendly people, but the small world-class city known as Amsterdam has many of its own features not to be missed by travelers. Many visitors book a trip to this northern European city between the middle of spring and late summer when the city's festivals and special exhibitions are in full force. There are a variety of Amsterdam sites sure to please a wide variety of travelers. The subsequent article discusses several that are not to be missed stops on your visit to Amsterdam.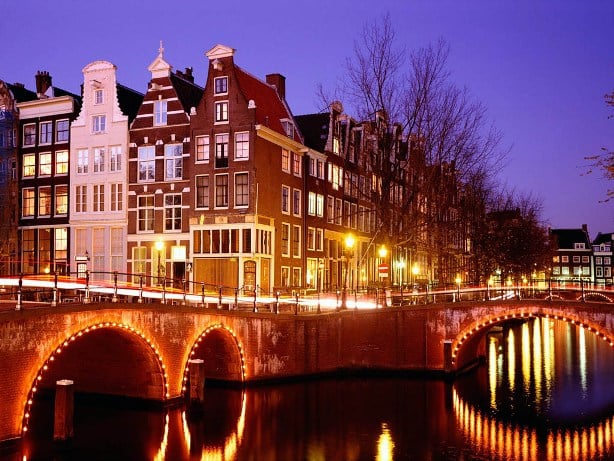 Amsterdam's Historisch Museum is a great place to begin as it will help put all the other sites in perspective. It contains relics of the city's history from centuries ago. Walking through the streets of Amsterdam is bound to be more meaningful after learning about their history.
The Van Gogh Museum contains the world's largest collection of Vincent Van Gogh's work; it owns approximately two hundred paintings and five hundred drawings. The museum also contains many of Van Gogh's letters and items from his own collection. All in all, it is a stunning portrayal of the work of one of history's greatest artists. Art lovers will especially glory in this fine museum.
If vibrant nightlife is your cup of tea, than Leidseplein, an Amsterdam square filled with local Dutch flavor and many street cafes, is a must. During the warm season, the square is also a haven for entertainers who delight the crowds with their fire-eating or sword swallowing antics. Be sure to stop by the American Hotel for a peak at its lovely Art Nouveau features.
Travel along the picturesque canal known as Herengracht and you will see four centuries of Dutch architecture in the buildings you pass. The canal contains the "Golden Bend" section that contains some of the grandest homes in Amsterdam. A tour of the canal is not only historic, but today's homeowners offer their own stamp on the canal with their gables.
Bloemenmarkt is Amsterdam's only floating market. At one point during history, the city had several owing to the "tulip mania" that swept across Europe. Today, the stalls of this unusual market bloom with horticultural delights rich with Dutch bounty. Although bulbs are most popular throughout the country, visitors with an interest in gardening will find seasonal flowers, herbs, shrubs, decorative ornaments and more at this uniquely Dutch market.
Other noteworthy sites on your visit to Amsterdam include: Begijnhof (characteristic almshouse), Nieuwe Kirk (national church), Magere Brug (landmark drawbridge), Vondelpark (park near the core of the city), Woonbootmuseum (Houseboat Museum), Anne Frankhuis (where Anne Frank and her family lived in hiding before their capture) and Rijksmuseum `De Meesterwerken' (collection of master paintings from the Dutch Golden Age).