Places to visit in Mexico City
Despite resting on the ancient Aztec capital, Mexico City is an example of a modern city that is pushing for progress. At roughly 23 million inhabitants, it is one of the biggest cities in the world, and visitors will be spoil for choice with the wide range of activities and experiences that the city offers. To try and cover everything in Mexico's capital would be impossible, so here's 5 things to whet your appetite during the day, and something for the evening if you've still got some energy left.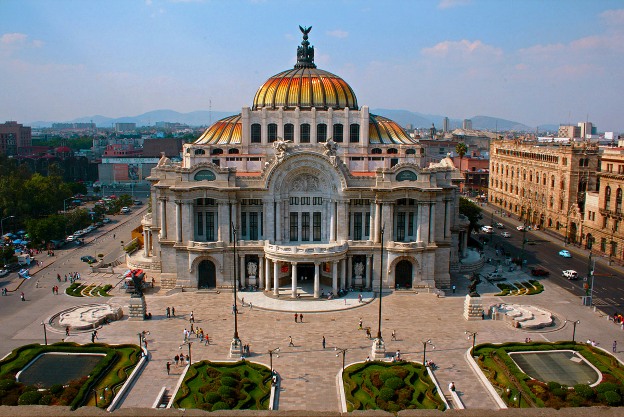 5 Things For The Daytime…
1) Visit the floating gardens of Xochimilco
With Aztec farmland scare, the population developed a system of floating reed mats covered with soil to create gardens on the lake that  surrounded their ancient capital. Visitors today can take a journey in a flat bottomed boat around Xochimilco, an area in the south of the city to see the impressive floating gardens where most of the city's flowers are grown. You'll also have the opportunity to get an understanding of the immense scale of the agrarian canal system that watered the Aztec capital.
2) Take a city tour
Plenty of tours exist to help you get an overview of the most engaging parts of Mexico City without getting overwhelmed by all the options of museums, architecture, sights and sounds. One of the options that could be included in your tour is the looming Metropolitan Cathedral, the largest church in Latin America, which houses many treasures from the
colonial period of the city's history. It took a back-breaking 250 years to build, well demonstrated by the variety of architectural styles as new people took up the project over the years.
Another option could be Chapultepec Park, home to 5 museums, 2 lakes, a zoo, tranquil botanical gardens and, on the other end of the scale, an amusement park with one of the world's largest roller coasters. For those with a desire to learn about 3000 years of human evolution, a visit to the world-class Anthropological Museum will satisfy you.
Categories: Abacos, Mexico, Mexico City, North America
Tags: Historical site, mexico, Mexico City, Museums