Cajun and zydeco music in Eunice, Louisiana
The friendly, largely agricultural community of Eunice is Louisiana's hub and incubator of Cajun and zydeco music. Its infectious strains pour out of laid-back, top-notch venues around the region and at various festivals throughout the year.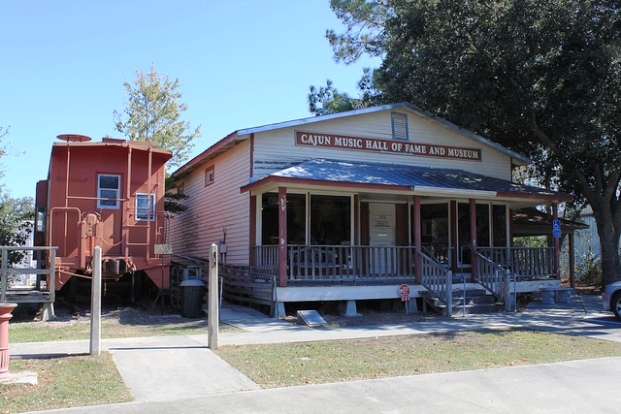 Cajun and zydeco music share some similarities, and both trace their lineage to this part of the world. Cajun music originated with the Acadian settlers who populated southwestern Louisiana during the late 18th century, and is almost always sung in French. Zydeco was originated by African American sharecroppers, slaves and farmers of the area during the mid-19th century. Each form had considerable influence on the other, and some of the same instruments are used in both (especially the mainstay accordion), but Cajun music bears a closer resemblance to French and other European folk music, while zydeco is closer to blues, Afro-Caribbean music and R&B.
One of the best places to learn about the music and the heritage of the Cajuns is the Prairie Acadian Cultural Center (part of the Jean Lafitte National Historical Park and Preserve), in downtown Eunice. This impressive contemporary museum hosts Cajun and zydeco concerts in its theatre, offers Cajun cooking demonstrations and has exhibits on local music, crafts and farming.
Saturday evening in Eunice means only one thing: the family-oriented variety show, Rendezvous des Cajuns, best described as the Cajun version of the Grand Ole Opry. It's broadcast live on local radio from the Liberty Center for the Performing Arts, a 1920s former vaudeville theatre. Today's Rendezvous features zydeco and Cajun bands, with locals dancing just beneath the stage and the host's animated patter of jokes, recipes and storytelling in a mix of Cajun and English. After the show, head over to Nick's on 2nd, a dapper, high-ceilinged 1930s downtown bar and grill, where live music continues and great Cajun fare is served.
Categories: Abacos, Eunice, louisiana, USA