Public Gardens of Portland Oregon
Here's a little-known fact: the world's most spectacular gardens are found within the USDA's climatic Zone 8, the climate that Portland shares with most of the British Isles, much of France, northern Italy and large areas of Japan—in short, the world's best gardening postal codes. Combine this favourable gardening climate (characterised by four definite seasons but mild winters) with the incredibly fertile soils of Portland, at the base of the Willamette Valley, and you've got a city where—literally—everything's coming up roses.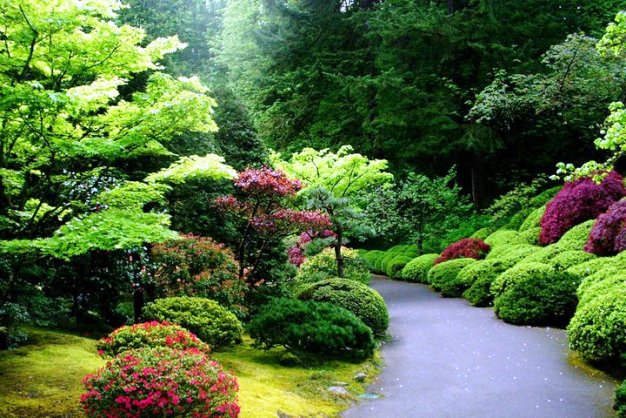 In the months of glorious (and dry) weather between late spring and early autumn, Portland's winter rainy season seems like a modest price to pay for a gardener's paradise. Evidence of the city's mild climate, plentiful rain and sunny summers is everywhere, from world-famous public gardens owned by Portland Public Parks (which manages 200 parks in Portland encompassing over 10,000 acres, including 5,000-acre Forest Park, the largest urban wilderness park in the country) to neighbourhoods where many residents forgo the traditional front lawn in favour of lush jungles of both familiar and unusual plants.
The city's gardens reflect something of the spirit of Portland itself: vibrant, eclectic, creative and with an outdoors feel. This nonconformist individualism is practically Portland's civic ethos, and along with an endearingly scruffy idiosyncrasy, it gives this city—Oregon's largest—its particular charm.
Portland has been called the 'City of Roses', at least since the Lewis and Clark Centennial exhibition in 1905, when roses lined 200 miles of the young city's streets. The holy of holies for enthusiasts is the International Rose Test Garden in Washington Park, in downtown Portland's West Hills. Established in 1917, it boasts more than 7,000 rose bushes representing over 550 varieties (most are new hybrids being tested before marketing) in a magnificent five-acre location, with a spectacular view across the city towards Mount Hood. Its June Rose Festival is considered by many to be the city's biggest celebration.
Categories: Abacos, Oregon, Portland, USA
Tags: City Vacations, Gardens, Oregon, Portland