Florence is a beautiful city located towards the north of Italy. It's been popular with tourists and art lovers for years because of its cultural sights and great shopping, and it's one of those places that you really should take the time to visit if you're ever in the region. And while a short break in this fashionable city is always guaranteed to delight, the surrounding region of Tuscany offers plenty more fabulous places to visit. Next time you're in Florence why not try one of these great day excursions to see some of the quieter, less touristy towns.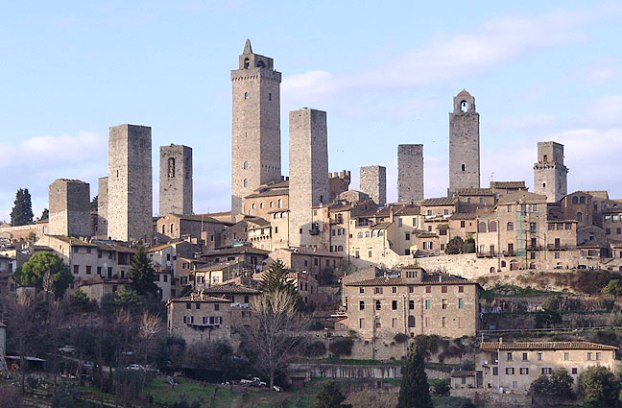 San Gimignano
This beautiful medieval town is found at the end of a wonderfully relaxing drive through the picturesque wine lands of Tuscany. The old part of the town can be seen from some distance away, dominating the skyline with its impressive and ancient towers. A day here can be spent exploring the piazza's and trattoria's of this impressive stone built citadel, enjoying a glass of locally produced Vernaccia di San Gimignano wine in the sunshine, and hunting out the fashionable boutique shops in the pedestrian town center.
Siena
Siena is located a short drive south of Florence and is another fine example of traditional Italian architecture, cobbled streets and winding lanes. The town was made famous by the Palio horse race, a daring feat of horsemanship and skill which sees bareback riders compete in fast and furious races around a makeshift course in the Piazza del Campo, the town square where locals normally gather to sit at outdoor cafés and socialize. For more traditional tourist sites, visit the Duomo
(Cathedral) and the Battistero (Baptistery), or head to the town's old hospital, the Speddale di Santa Maria della Scala, with its interesting underground museum.
Arezzo and Cortona
These beautiful towns, located almost in the centre of the country, have been popular for years with tourists hunting for a taste of the true Tuscany. Arezzo is particularly well known as the birthplace of artists Giorgio Vasari and Piero della Francesca, but aside from the paintings they have created, the town itself is a veritable work of art, with stunning examples of roman churches, like the Pieve si Santa Maria, or the Basilica di San Francesco with its famous frescoes painted by the artist of the same name.
Cortona found international fame because of the movie Under the Tuscan Sun, and not much has changed here from the traditional Italian way of life. It offers a quiet and relaxed pace, with strolls through vineyards and olive trees, and its two main squares, the Piazza Signorelli and Piazza della Repubblica offer plenty of choice for a relaxed dinner.
Fiesole
One of the easiest towns to get to from Florence, Fiesole is a short bus ride away (take the number 7 from Santa Maria Novella station). It sits on a hilltop enjoying the fabulous panorama over the Florentine skyline, including a stunning view of the Duomo by Brunelleschi. Fiesole is a maze of twisting streets, attractive villas and landscaped gardens, and its medieval cathedral is a popular focal point for travelers.
If you've enjoyed Florence but you'd like to explore a little more of the tranquil outlying areas, then your Italian holiday vacation will be made even more memorable by including one of these fantastic day trips.