Some vineyards in Rome have produced wine from many centuries ago; Italy as a whole has made great wine for a long time and is second only to France in wine production. The Italian area most associated with grape growing for wine is most certainly Tuscany. A variety of wines in the area come with a bold, woodsy character in a red color; its flavor goes down well with Tuscan food. The white wines that are made here are not popular with the connoisseurs, but there are some that are still liked by ordinary wine enthusiasts.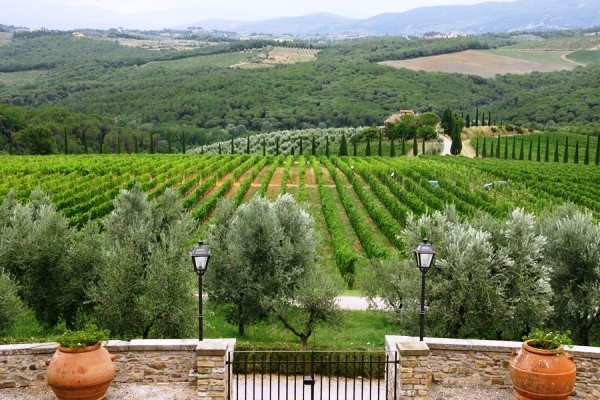 Chianti Wines
This the best known of all Italian wines and certainly the most famous from the Tuscany region. Originally this wine growing area included the land between south of Florence and north of Siena; now since the 1950's it has since encompassed most of central Tuscany. Chianti Classico refers to wines from this original area. Additionally, those wines with a black rooster logo are held in higher regard. The Sangiovese grape produces this type of wine.
While Chianti wines must contain at least 75% Sangiovese, producers often add other grape varieties for character and flavor.
Brunello di Montalcino
Just a little south of Siena lies Montalcino. Since the climate is dryer and warmer compared to the northern Chianti region, the Sangiovese grape grown in this region has a stronger flavor. These wineries are prohibited from blending this wine and it must be aged a minimum of four years.
Rosso di Montalcino
This wine is like the Brunello, but it is cheaper and simpler because it does not have to undergo four years of aging.
Variety known as Super Tuscans
In the mid 1970's, winemakers began to question the very strict regulations. These wineries began combining varieties in innovative ways never seen before. They would use a combination of French oak and several different types of grape including Merlot and Cabernet Sauvignon. Sassicala and Tignanello are the more popular varieties of this wine.
Many purists prefer traditional wine-making methods to this production method.
Vino Nobile di Montepulciano
Montepulciano is a town east of Montalcino, where regulations are more lax when compared to Brunello; it creates a combination between that and the Chianti.
Chiantis normally will produce a sweeter tasting wine.
Wines from Tuscany can be White
The Trebbiano grape produces much of the white wine in this area. Sam Gimignano is a town that is famous for its medieval towers; in addition, it is home to wonderful Tuscan white wines called Vernaccia di San Gimignano. To diversify local production, French varieties such as Chardonnay and Cabernet Sauvignon have been introduced to the area. This is similar to what had been done with the Super Tuscans.
A visit to the region of Tuscany is a must for any wine enthusiast who wants to travel to Italy. The visitor will leave with lasting pleasurable memories on the pallet.