Ponta dos Ganchos, Santa Catarina, Brazil
Ponta dos Ganchos Exclusive Resort is located on a privately-owned peninsula, surrounded by the exuberant Emerald Coast. Known as one of the most exclusive beach resorts in Brazil, the property enjoys direct flights from São Paulo, Rio de Janeiro or Buenos Aires. Here the waters of the Emerald coast meet the lush rainforest vegetation in a dazzling display of colour and light. 25-sophisticated and charming bungalows lay in perfect harmony with the breathtaking scenery.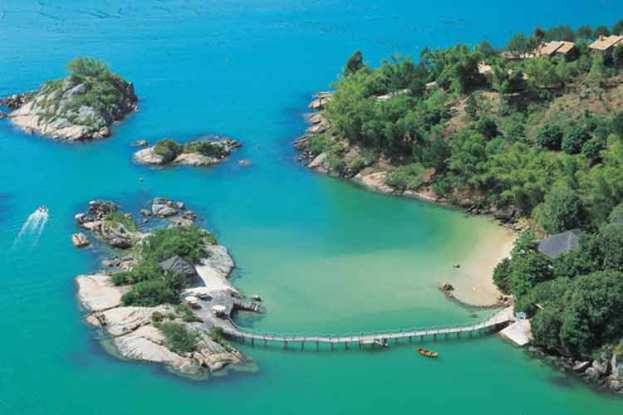 Ponta dos Ganchos offers a state-of-the-art fitness centre, cinema, business centre, restaurant, bar, lounge, games room, oceanfront ocean-front tennis court, heated swimming pool, massage gazebos, SPA and nature trails. In close proximity to the resort, one can also experince Arvoredo Island, the best site for scuba diving in South Brazil. Addition boat trips include Anhatomirim Island and the Baía dos Golfinhos (Bay of Dophines).
The 25 bungalows decorated in a rustic, yet contemporary style range in size and amenities, but all provide privacy and comfort. From the simple cabin-like Luxo accommodations featuring handmade hammocks on the wooden decks to the more elaborate Special Villas with Jacuzzis, dry saunas and private plunge pools, all accommodations are well-appointed and include luxurious Egyptian cotton linens, fireplaces, Wi-Fi Internet and flat-screen TVs.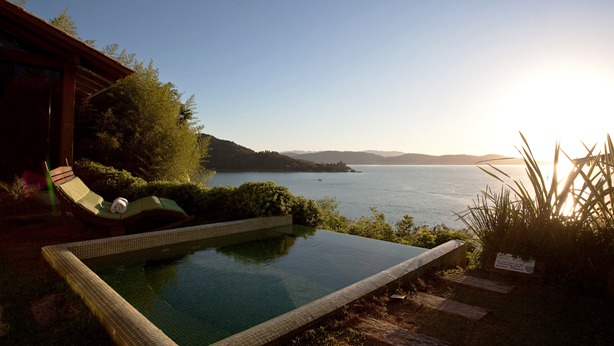 In 2008, the resort added four larger Emerald Villa Bungalows and a Special Emerald Villa Bungalow—accommodations so lavish you'll be tempted to stay inside throughout the length of your stay. With a private infinity pool that seems to flow into the ocean below, the Special Emerald Villa Bungalow is a splurge that includes a personal spa area with massage tatami mats as well as a dry sauna and small downstairs fitness room from which you can watch the sun set over the blue water. Although paying a steep price for the Special Emerald Villa Bungalow is tempting, the Emerald Villa Bungalow, without the private fitness center, and even the lower-tiered Villas offer similar amenities and a high-level of comfort at a more reasonable price tag.
Categories: Abacos, Brazil, Santa Catarina, South America
Tags: Adventure Travel, Azores, Beach Vacation, Brazil, Buenos Aires, Emerald Coast, Emerald Villa Bungalow, Florianopolis, Governador Celso Ramos, Rio de Janeiro, Romantic getaways, Santa Catarina, Scuba Diving, Spa Vacations, United States