Ride the rapids Hells Canyon Idaho
On its long campaign across southern Idaho, the Snake River bisects a seemingly endless expanse of flat rangeland, with much of its water diverted for irrigation. Then, towards the Oregon border, as mountains edge in to constrict the valley, the Snake River gets down to business, carving its mighty Hells Canyon, the deepest river gorge in North America.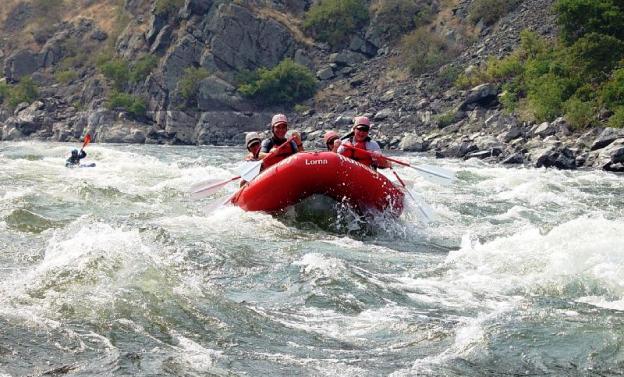 Between Hells Canyon Dam and Lewiston, the Snake drops 1,300 feet in just 70 miles, within canyon walls that tower an average of 6,500 feet above. At its deepest point, the gorge walls rise nearly 8,000 feet, deep enough to hold 47 Niagara Falls stacked on top each other (and consider this: The Grand Canyon is at most 6,000 vertical feet deep from rim to river). For a distance of 106 miles, no bridge crosses the river, and few paved roads come even near to the canyon.
These remote hinterlands are part of the 652,488-acre Hells Canyon Recreation Area, which straddles a 71-mile portion of the Snake River (the river canyon itself is preserved in the 213,993-acre Hells Canyon Wilderness Area). Most of the terrain is made up of precipitous rock walls and steep, slot-like side valleys, which means that just about the only way to experience this epic frontier is on foot, horseback or—most excitingly—by boat. Take a Snake River float trip by raft, dory or kayak, providing high adventure as the waters blast through 34 named Class II to IV rapids in the most popular part of the canyon, the two- to three-day passage between Hells Canyon Dam and Pittsburgh Landing.
For travellers with less time, turbine-powered jet-boat tours are also available—a less idyllic but equally exciting way to see the canyon in as little as a day. Jet boats depart from below Hells Canyon Dam and also from Lewiston, far to the north (downstream) of Hells Canyon.
Categories: Abacos, Idaho, USA
Tags: Adventure Travel, Hells Canyon, Idaho, Rafting