Rome The Campo de fiori And Colosseum Districts
The Piazza Campo de' Fiori in Rome Italy,  has been a meeting place for centuries. In the center of the plaza is a statue of Giordano Bruno, a monk burned for heresy in the year 1600. The not as well known Croatian born scientist Marco Antonio Dominis managed to die a natural death in September, 1624 but a few months later his heresy was declared manifest, and by order of the Inquisition his body was taken from the coffin, dragged through the streets of Rome, and publicly burnt in the Campo de' Fiori, along with his works, a few days before Christmas of that same year.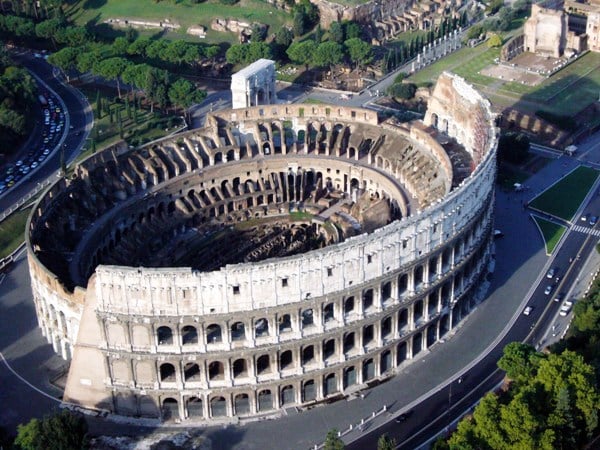 Some say that Dominis was the first to develop the theory of the rainbow, and he was an expert on tides, but that wasn't what got him in trouble. For over one hundred fifty years the piazza has hosted a fish and produce market. This is an in spot at night.
In 1536 Michelangelo started designing the Piazza del Campidoglio plaza on top of the Capitoline hill in central Rome. Instead of facing the Roman Forum, the plaza faced Saint Peter's Basilica and the design was to mark a new trend in city planning. The centerpieces were the Capitoline Museums. However, these magnificent edifices were not ready on time for the visit of Charles V, the Holy Roman Emperor. In fact, they weren't completed until the Seventeenth Century. In fact the paving design itself was completed only in 1940, under the orders of Benito Mussolini.
The three main buildings are the Twelfth Century Palazzo Senatorio modified by Michelangelo, the Sixteenth Century Palazzo dei Conservatori, also redesigned by Michelangelo, and the Seventeenth Century Palazzo Nuovo whose exterior is identical to the Palazzo dei Conservatori. In addition the Palazzo Caffarelli Clementino hosts short-term exhibitions, until World War I it hosted the German Embassy.
Categories: Abacos, Europe, Italy, Rome
Tags: Capitoline Hill, Capitoline Museum, City Vacations, Colosseum, Family vacations, Historical site, Italy, Michelangelo, Museums, Roman Forum, Roman ruins, Rome, Romulus and Remus, Shopping, sightseeing, St. Peters Basilica, travel