San Francisco is the city Americans fantasise about, sing about and leave their heart in, a place of myth and magic on a par with Paris and Venice. One of California's greatest native writers, John Steinbeck, called it "a golden handcuff with the key thrown away". With a stunning waterfront setting that rivals Rio de Janeiro's, and just 750,000 inhabitants, it is America's most livable great city, and its fascinating mosaic of ethnic neighbourhoods is one of its most charming features.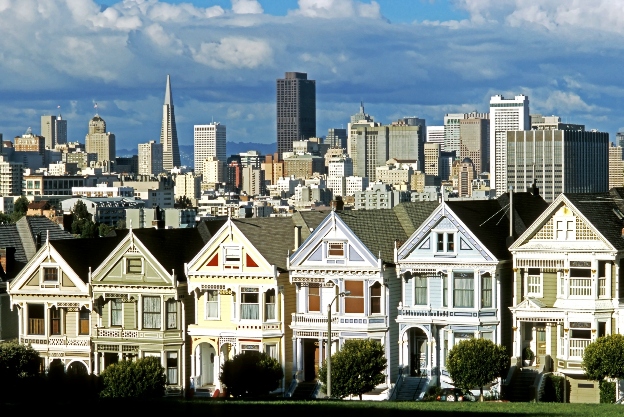 In Chinatown, you'll hear more Cantonese and Mandarin than English, and find the same authentic grit and bustle of the alleys of Hong Kong. Enter that exotic world through a green-roofed, pagoda-style gate that opens on to Grant Avenue, the city's oldest street. At Portsmouth Square, you may find people practising tai chi or a crowd of men immersed in gambling games. Wander Stockton Street's back alleys to see butchers, fishmongers, Chinese herb shops and a fortune cookie factory on Ross Alley. Bring your own fortunes and they'll fold them into freshly made cookies right before your eyes.
For the best dining, look for small places packed with Chinese patrons, such as the R&G Lounge. If you don't mind sharing a long table with other tourists, try a long-time city favourite, House of Nanking, known for its noodles. Don't be surprised if the waiter tells you what to order—and don't hesitate to follow his advice.
Walk a few blocks to enter North Beach, characterised by alfresco café tables, the aromas of garlic and freshly ground coffee, and European accents. It's perfect for strolling, and Telegraph Hill offers some of the best vistas in town, particularly from the top of 212-foot-high Coit Tower.
Explore café culture at City Lights, the bookstore co-founded in 1953 by poet Lawrence Ferlinghetti. City Lights served as a launching pad for Jack Kerouac, Allen Ginsberg and other 'Beat Generation' writers and remains an institution of progressive literature and poetry today.
Fisherman's Wharf, the famous waterfront tourist destination, has long been the spot San Franciscans love to avoid (though as the rest of the city gets slicker they're coming around to its nostalgic charm). Join the teeming humanity eating freshly cracked Dungeness crab in season and fish and chips from the dockside stalls, and take in the stunning view of the Golden Gate Bridge or Alcatraz.
Top it off with a chocolate sundae at Ghirardelli Square or an Irish coffee at the Buena Vista, which claims to have perfected the drink in 1952. Leave time for a cable car ride, one of San Francisco's most beloved icons and one of the few national historic landmarks that moves. A throwback to the late 1800s, when they were the best transportation up and down the 43 hills of America's most topographically endowed city, the cars still bustle along at a constant 9.5 mph. Don't leave town without hopping aboard.