The Hana Highway Maui, Hawaii
Besides the Crater Road to Haleakala's summit, Maui's other famous road show, and one of the Pacific's most scenic, is the narrow, corkscrew Hana 'Highway' on the island's lush, isolated northeastern coast.
Beginning at the relaxed former sugar-plantation town of Pa'ia, the 50-mile drive takes two to three hours, climbing and dropping among some 617 curves, crossing 54 one-lane bridges and passing dozens of waterfalls and vistas before reaching the quiet, old-fashioned, eye-blink town of Hana.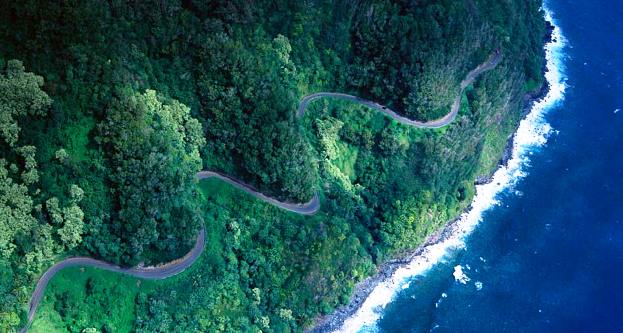 Bring a picnic lunch, stop and swim in mountain streams fed by waterfalls, take lots of photos to show the folks back home and smell the flowers. Travellers who hurry to get to Hana wonder what all the fuss was about when they arrive; it's about the journey and the incredible display of nature along the way.
Stop at Twin Falls, or at Puohokamoa Falls further along the road, to experience a waterfall pool, and stretch your legs at the Waikomoi Ridge Trail for an easy three-quarter-mile loop through eucalyptus and bamboo. Great picnic places include Kaumahina State Wayside Park and Pua'a Ka'a State Wayside Park, where a short path leads to accessible swimming holes and waterfalls.
Besides Hamoa Beach—a large, crescent shape at the base of 30-foot black lava sea cliffs—Hana's main attraction is the unique Hotel Travaasa Hana-Maui, the island's most exclusive hideaway. Founded in 1946, it is a cluster of hillside cottages on 66 secluded acres sloping down to a rugged coastline. Three miles from the centre of town, at mile marker 32 off the Hana Highway, oceanside Wai'anapanapa State Park invites visitors to explore an ancient six-mile trail past green naupaka shrubs, a forest of lauhala trees (used in local weaving) and coastal formations such as blowholes, sea arches and caves.
Categories: Abacos, Hawaii, Maui, USA
Tags: Adventure Travel, Hawaii, Maui, sightseeing