Scottsdale The Myrtle Beach of the South West Without the Beach
I have been traveling to Myrtle Beach since 1990 for great golf vacations and for the last four years with my golf buddies, Ferd, Fred, Tim, Dennis, Richard, Peter, and Mike F. on our annual golf trip. Since this was to be our 5th year we decided to try a new venue. After careful review of a number of alternate locations we arrived at Scottsdale, Arizona as this years golf destination. It turned out to be an excellent choice and we reserved our time there from March 18th to the 22nd.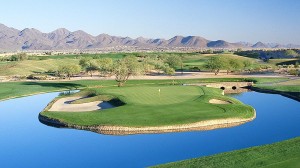 We were hoping for reasonable weather as the week before we arrived the temperatures were in the high 70 s, which is perfect for golf. When we arrived the temperature rose into the high 80 s and low 90 s, which is hot but still playable. It is a drier climate so the heat was not as formidable as in the north or southeast where the humidity will make it feel much warmer than it is.
The courses we played were TPC of Scottsdale, Las Sendas, Gold Canyon Dinosaur, Whirlwind Devil s Claw and and We Ko Pa Cholla, my personal favorite. The rates at that time of the year were a little pricey but well worth the cost in the long run. The last three golf resorts had 36 holes each and we were able to replay another 18 holes on their alternate course, which was most enjoyable and convenient. I have played desert golf previously in Las Vegas in 2002, as I vacationed there with my significant other that year to celebrate my 50th birthday, but this was different.
The red rock mountains and varied rock and cactus formations and shapes, respectively, were incredible. The green fairway grass against the colorful mountain backdrops were breathtaking and I enjoyed every minute of the trip. We stayed at the Xona Resort Suites, which was centrally located and had excellent accommodations for a reasonable price.
Categories: Abacos, Arizona, Scottsdale, USA
Tags: Arizona, etraveltrips.com.Travel, Ferd, Golf, Golf Vacation, Myrtle Beach, Myrtle Beach South Carolina, Phoenix, San Francisco, Scottsdale, Scottsdale Arizona, Shopping, sightseeing, travel deals, United States